What Is Reiki?–What to do?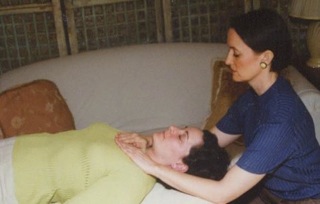 Ask an artist What is art? and you'll likely get either more than you bargained for in language you can barely recognize as your native tongue, or a cold, frustrated stare. To many artists, art is something they do, not something they talk about.
Reiki practitioners can relate. The question What is Reiki? floods them with such emotion and memories that they don't know where to begin…or end, even though their friend's eyes have long glazed over.
The question What is Reiki? is not going away, so let's find a workable strategy to address it, one that is comfortable and serves the public, and our practice.
There is no shame in taking Mrs. Takata lead, saying, "I can't tell you, but I can show you," and sitting your friend down for a Reiki sample.
Or you could say, "I love my Reiki practice so much and experience so many benefits from it, that I don't feel I do it justice when I talk about it," and refer them to an accessible resource (may I suggest the UPI interview Reiki: A Healing Touch?).
Or you could imagine yourself as a parent whose child asks, "Where do babies come from?" Are you even tempted to tell your child everything you know about the subject? Of course not. Do you jump right in without thinking? No way.
You consider your child's age, knowing a 3-year-old needs a different response than a 5-year-old. You might ask for clarification, saying, "What exactly are you asking, honey? What is it you want to know?" This could lead your child to clarify, "Jenny's parents went to Chicago to pick up their new baby. Do all babies come from Chicago?"
Similarly, when a friend asks you what Reiki is, you could make it a conversation, and avoid a monologue, by asking, "There are so many ways to address that question. Tell me, what's your particular interest?" Your friend may then say she has surgery coming up and is wondering whether Reiki treatment could help her heal faster (yes, it can!).
Faced with the question What is Reiki?, I encourage my beginning students to take the pressure off themselves and defer to a resource.
My advanced students don't get off so easily, especially those who want to become professionals. I coach them to write a basic response that they memorize as a starting point, and customize to fit the occasion.
Here's my basic response when I'm asked What is Reiki? — Reiki is a spiritual healing practice that promotes overall balance.
If I think the person might not have considered the distinction between spiritual and religious, and I don't have time to address that, I skip "spiritual." When speaking to someone I know to be a meditator, "promotes overall balance" might morph into "encourages balance in body, mind, and spirit."
And that's as far as I go, unless the person asks for more.
That's how I respond when asked, What is Reiki? What about you?
RELATED READING:
Is Reiki Enough?
Reiki Beginner's Report