If you have already purchased the Intro to Medical Reiki, Successful Public Reiki Events, Your Reiki Website or the Talking Reiki recorded webinar, click here to access it.
MAINSTREAMING REIKI WEBINAR SERIES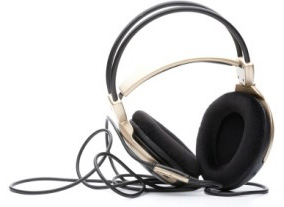 The new webinar series is designed to help Reiki practitioners develop the clarity and skills needed to bring Reiki practice to a mainstream public.
The series is particularly geared toward professional development and especially relevant to students, professionals, and teachers, but will be of interest to any practitioner who feels that Reiki practice has been marginalized.
These recordings do not tell you how you should practice, but rather guide you into a thoughtful consideration of the questions and concerns facing mainstream Reiki practitioners.
My goal is to help you be successful so that Reiki practice can be more accessible to the mainstream public.

TALKING REIKI WEBINAR SERIES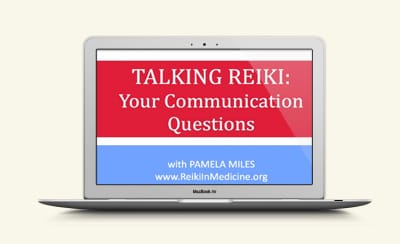 The Talking Reiki: Communication series is designed to improve your effectiveness and comfort when talking about Reiki. The series includes 4 webinar recordings that cover:
the elements of an effective presentation
how to speak about Reiki clearly to an individual or group–what needs to be said and what's better left out
how to structure a client session and what your clients want to know, and when
a system for addressing questions
discussion of common communication questions.
These recordings teach you how to respond when asked about Reiki to start a meaningful conversation instead of sending people running.

REIKI BEST PRACTICES RECORDED TRAININGS
These video trainings are available as soon as you register, and you can access them as often as you want! Click here to access a recording you have already purchased.
My REIKI BEST PRACTICES recorded trainings offer continuing education and support to Reiki practitioners of any and all lineages and practice styles.
My interest is never to correct anyone's Reiki technique – we all have to find our own way in that department – but rather to support practitioners in developing the professional skills needed to make a credible Reiki presentation, one that is appropriate for health care and the mainstream public, without diluting the spiritual essence of the practice.
Once you've registered for a training, you'll be able to access the videos online any time you want, as often as you want.
INTRODUCTION TO MEDICAL REIKI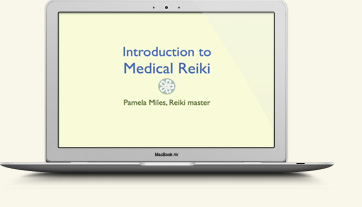 Can't make the in-person Reiki and Medicine intensive?
This recording hits the high points so you can improve your communication and strategy.
You also receive a 4-phase program proposal that you can customize to fit your needs. Watch the video at your convenience, as many times as you like.

7 STEPS TO SUCCESSFUL REIKI PUBLIC EVENTS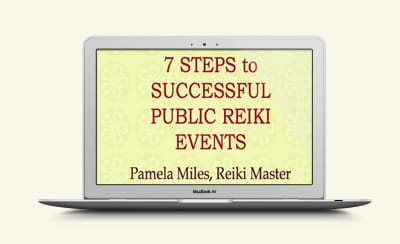 Public Reiki events are a powerful way to step out in your community and share Reiki treatment with people who might not otherwise know about it.
But it is critical that your event be very professional.
This recorded training gives you what I've learned in 20 years of organizing events in a wide range of venues, so you can function as a seasoned professional starting with your very first event.

YOUR REIKI WEBSITE: WHAT YOU NEED TO KNOW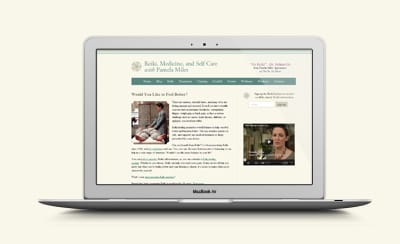 Do you need a website but don't know where to start?
Or do you have a site that's not working for you, and you don't know how to fix it?
Mounting a website is a huge undertaking, and a necessary one for every Reiki professional.
Let's get you out of feeling overwhelmed and into a website that credibly showcases Reiki – and you – to the mainstream public.

ONE-TO-ONE REIKI MENTORING
Need to fast track? Schedule an individual mentoring session and we'll discuss any questions you have about your Reiki practice or professional development, or review your website or communication materials. I'll call or skype you at a prearranged time. $149 for a focused 40-minute consult that will propel you forward. Email me to schedule.