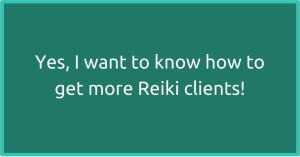 Are you a Reiki professional, meaning you are paid for offering Reiki treatment or training?
Do you want to expand your business so you can help more people  — as in have more clients? 
Are you longing to spend more time doing the work you love, bringing Reiki practice to more people, helping them recover their happiness and well-being?
Your sacred Reiki business
Are you committed enough to helping others that you're ready to heal any confusion you have that spirituality and business don't mix?
Ask yourself this question: If honest, credible, ethical people with spiritual values and aspirations aren't willing to engage in business, who will we get our services from?
Your Reiki business is a sacred vehicle that can deliver Reiki practice to more people who want what Reiki offers them, and who may not even know about Reiki practice until you tell them.
Are you serious enough about making a difference in this world that you are willing to be successful?
I hope so. If you are serious, if you are ready to step forward, I am here to share my decades of experience with you so you don't have to reinvent the wheel.
I want you to be more successful. The world needs more ethical, credible Reiki professionals serving more people, helping them find their way out of suffering, back to happiness and wellness.
I can help you grow your business in ways that align with your values and aspirations, your deep sense of service.
How and why I can help you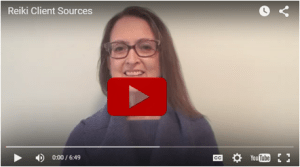 For the next few days only, I am offering a special series of free, short videos to share my top tips for connecting with new clients and growing your Reiki business.
Everything I share has been proven to be effective. I've been a Reiki professional in New York City for nearly 30 years, talking to people who thought they weren't interested in Reiki.
And truly, some of them weren't.
But as I observed what wasn't working, and tweaked my approach, I saw that more people became interested.
What helped me the most was being asked to organize the first in-hospital Reiki program at Beth Israel Medical Center in the mid-1990s. I knew the difference Reiki practice could make to the patients at the AIDS clinic. I also knew I had to find a way to present Reiki that would make sense to doctors.
So I let them teach me what they needed from me. I listened and I learned to understand their perspective so I could help them appreciate how Reiki practice could support their patients, their families, and themselves.
I want to share what I learned so you can grow your business and we can keep helping more people. Just click here to let me know you want to learn how to get more clients. Then check your inbox (and maybe your spam folder).
If you find these tips useful, there will be a training next week in which we will go even deeper. I will pull all the tips together into a simple 4-step process you can start using immediately. We'll also have a follow-up Q&A session (more if needed) in which I'll answer your questions to make sure you get the most value. All sessions will be live and recorded so you can go back over them again and again.
But I'm not a Reiki professional
If you practice at home on yourself, family, friends and/or pets only, you'll still find value in the videos. Even as a non-professional, you are an important part of the presence of Reiki practice in today's culture.
And when you're more comfortable talking about your Reiki practice, you'll feel even better about it, and yourself. Who knows what will come of your next Reiki conversation? Maybe your friend will ask to meet your Reiki teacher and you two can start practicing on one another!
All Reiki hands on deck! The videos are completely free, but only available for a few days, so act now. Please click here and turn up the volume!