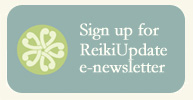 ReikiUpdate keeps you current with Reiki practice news and class announcements. Please click the button to sign up.
Here are links with details about:
Many additional questions are addressed on my blog. Look at the articles listed in the sidebar under Favorites, the various categories listed below that, or use the search function to find discussions of specific topics.
Email is by far the fastest way to reach me. I can pick up emails no matter where I am, and usually respond within a day, often within hours, so please email if you can.
If you still prefer to call, it is unlikely you will receive a timely response. Even when I am in New York City, it often takes several days to return phone calls, several weeks when I am traveling. If you leave a voicemail, please keep it brief. Speak slowly when giving your phone number, and repeat it. If you don't receive a call back, it is because I couldn't understand your number. 888-890-9640 (Eastern US time)