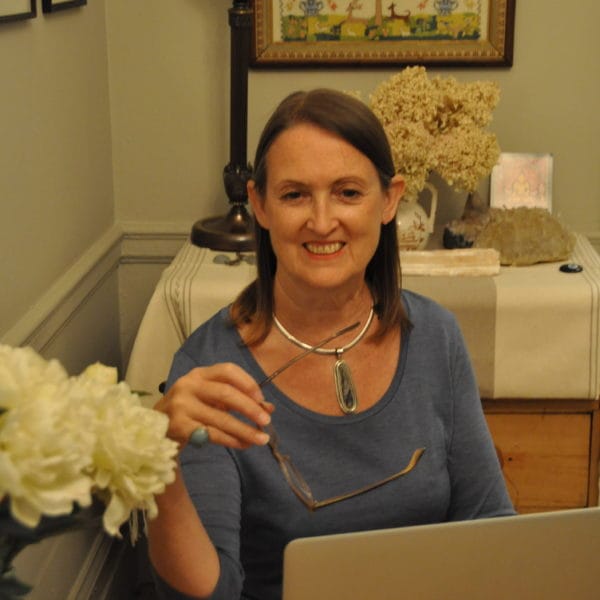 You can learn traditional Reiki self care online from your home in a live, interactive class.
Before we go into specifics of how you can learn Reiki practice online, let's first get clear what Reiki is.
Reiki self care is a non-invasive, light touch practice that helps restore balance to your whole system. When you're balanced, you feel better and you function better. You feel calmer, steadier, more confident, less anxious. And you make better choices, ones that truly support you and those around you.
When you feel balanced, your body's self healing is optimized and all systems start working better. Improved sleep and digestion are two frequently reported benefits of Reiki self care.
The balancing response to Reiki self care starts quickly. You might even sleep better after your very first self practice.
Or you might notice improvement in how you feel about yourself and your life. Many people notice relationships improve once they start practicing Reiki self care.
I have a new awareness of self that I did not expect. Taking care of myself has become more of a priority. Otherwise, I don't like the way I feel. — Danielle Green
The best way to learn to practice Reiki is to be in the room with a qualified teacher and a small group of students. I teach at least one Reiki class a month in New York City and you are welcome to join me. Not possible? Please keep reading.
Why learn Reiki online?
I just confirmed the best training happens when you're in the room with a teacher and a small group of students, so why would you choose to learn Reiki in a videoconference? Really, who would choose less than the best?
Lots of people, actually, anyone for whom it's simply not possible to be in the room with a qualified teacher and other students. Or people who already practice but want to deepen their experience and review the basics.
Not everyone can come to New York City and many can't find a local qualified teacher with a class that fits their schedule. Some people need to learn Reiki at home for a variety of reasons, including childcare, environmental sensitivities, social anxiety, lack of mobility, among other special needs. I feel especially committed to serving parents, as your whole family benefits when you start feeling better, more vital, more patient, more in touch with your love in the moment.
As the wise saying goes: don't let the perfect be the enemy of the good. If you can't get to an in-person Reiki class, the chance to learn Reiki at home with me in a live interactive videoconference setting is your next best option.
Thank you for a very wonderful class. Your teaching led me much deeper into my self practice. — Emma Duvefelt
Comprehensive Reiki self care online training
Learn Reiki self care online with me in an interactive, small group live training that is as close as possible to being here in the room together.
The focus of our live online training is your daily self care. You will learn a full protocol for daily self practice and modifications to practice as needed. We'll practice together in our virtual Reiki room and you'll practice at home.
The online Reiki training is organized similarly to my in-person classes: 3 sessions with time to practice at-home. Each session includes in-class practice and discussion, with ample time for all your questions.
You can attend the online sessions live using your computer, phone or device (check requirements here).
The Reiki Self Care training opened the door to self trust. — Mélisande Roche
What kind of Reiki training is this?
I'm so glad you asked! People often don't realize there are currently many approaches to Reiki practice, some of which don't trace back to Reiki founder Mikao Usui. I teach old-fashioned Reiki practice taught traditionally albeit in a contemporary venue.
I practice and teach basic Reiki as by Reiki master Hawayo Takata, who brought the practice from Japan in the 1930s with her Reiki master Chujiro Hayashi, a direct student of Reiki founder Mikao Usui.
That's the practice I learned in 1986. That's how I still practice. And that's the practice I'll teach you.
That means you will learn authentic Reiki practice online at home: simple, accessible and very effective.
In the years following Takata's death in December 1980, Americans made many changes to the practice, wrapping it in New Age trappings and adding unnecessary complications, usually without acknowledging what they have done. As a result, most people who think they practice as Takata taught, actually do not.
Why study with me?
I've been practicing Reiki since 1986 and teaching since 1990. I came to Reiki practice as a meditation teacher with nearly 25 years of spiritual practice experience, and practiced four years before starting my yearlong Reiki master training.
Since then, I've devoted myself to bringing Reiki practice to the mainstream public (people like you!) and to conventional medicine. I've taught at Yale medical school (among others), lectured at Harvard Medical School and the National Institutes of Health (NIH), and presented Reiki practice to Google and Unilever.
Each time I teach, I learn more from my students about what helps them learn Reiki practice more easily. I bring everything I've learned in three decades of teaching Reiki practice so you can learn traditional Reiki self practice at home.
Let me repeat: I teach the Reiki practice I learned in 1986, with a focus on daily self care. I've practiced Reiki self treatment every day since I first learned to practice.
What's in the online Reiki self care class?
This training focuses on empowering your Reiki self practice. We'll discuss the how, when, where and why of Reiki practice, especially self practice, and address your questions.
We'll practice together in class and between our sessions, you'll self practice at home on your own. The goal is for you to end the class feeling competent to practice Reiki self care, confident in the benefits of Reiki practice, and motivated to continue your daily self practice.
In our first live session, you'll learn how to practice Reiki self care. You'll actually start practicing self Reiki about an hour after we convene. Most people notice some benefit from their very first self-practice. I'll guide you what to look for and discuss how Reiki helps you heal.
After our first session, you'll practice at home at least twice before we meet again in the next day or so. In our second and third sessions, you'll share your experience practicing at home. We'll discuss your questions and I'll weave in relevant information so our time together stays relaxed and conversational. We'll also practice together in the second and third sessions.
This online Reiki class is live and interactive. You'll get the most by simply being present, no note-taking. However, it's up to you if you want to jot anything down when we take a break.
Each Reiki training I offer is unique in that each class is a co-creation by me and the people in the class. You'll learn Reiki practice at home and you'll learn with other students. That'ss important because we all learn from one another.
All trainings include a discussion of spirituality, science, history, safety, combining Reiki with conventional medicine, and the Reiki Precepts, but different groups go more in-depth in some areas than in others.
A unique quality of the videoconference trainings is that we connect across the barrier of distance. The participants in a recent class spanned 10 time zones, some starting their day while others ended theirs. To me, that highlighted the timelessness of our self practice, how it is always useful, valuable, and needed.
How is this training different than in-person training?
The only way in which this training differs from my in-person trainings is that, as we are not in a room together, we cannot practice on one another. That's why I refer to the videoconference trainings as Reiki Self Care. In the videoconference training, you'll learn everything you need to know to practice self Reiki, by practicing self Reiki together in class, practicing at home, and through the information and perspective I'll share during our discussions.
That said, the foundation of both my online and in-person trainings is daily self practice. Both videoconference and in-person trainings are thorough and I provide follow-up.
I cannot compare my trainings to that offered elsewhere because there are no agreed-upon standards whatsoever for Reiki practice and training. Please do your homework so you can make an informed choice about what Reiki training will be most impactful to you.
For example, some Reiki teachers don't understand the difference between teaching and giving information. Their classes are short (maybe as short as 90 minutes), allowing no time for in-class practice. Disappointed students often report being handed a manual and given an initiation, then sent on their way with no continuing support.
Daily self practice is often completely overlooked, or suggested for only 3 weeks. That's unfortunate because we need Reiki self practice everyday. Even a little bit of Reiki self care can bring you back to yourself and improve your day.
While I am a very traditional Reiki master in many ways, I decided in 2018 to offer videoconference trainings to make traditional Reiki training accessible to people who cannot find a local teacher/class that is meaningful to them and those restricted by health or lifestyle needs.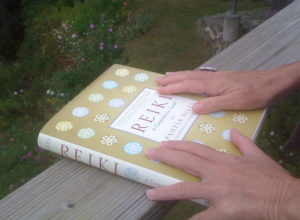 REIKI: A Comprehensive Guide
Please purchase my book, REIKI: A Comprehensive Guide now so you have it to support you during and after your training. You don't need to read the whole book before class, but take a look at the first two chapters.
Logistics, please!
Click here to be informed when the next class is scheduled.
The class consists of 3 sessions, each at least 3 hours long (we sometimes go a bit longer). The first two sessions are scheduled close together, and the final session a week later.
Midweek First Degree Reiki (Reiki 1) Training:
Wednesday, December 9; 2:00 PM – 5:30 PM Eastern Time
Thursday, December 10; 2:00 PM – 5:30 PM Eastern Time
Wednesday, December 16; 2:00 PM – 5:30 PM Eastern Time
Class Fee $365

You can pay in full or reserve your spot with a nonrefundable, nontransferable deposit and come back to this page to complete your balance by midnight Tuesday, December 8.
Weekend First Degree Reiki (Reiki 1) Training
Saturday, December 12; 11:15 AM – 2:45 PM Eastern Time
Sunday, December 13; 11:15 AM – 2:45 PM Eastern Time
Saturday, December 19; 11:15 AM – 2:45 PM Eastern Time
Class Fee $365

You can pay in full or reserve your spot with a nonrefundable, nontransferable deposit and come back to this page to complete your balance by midnight Friday, December 11.
Please note: you won't be able to enter our online gathering unless your payment is completed two days before our class begins.
A few details to be mindful of
All sessions start promptly; ending time is approximate. The third session if often 15 minutes longer.
You will begin practicing Reiki on yourself during the first session. Plan to attend all sessions in their entirety. Remember this is a videoconference; be prepared to share your camera so we can all see one another. Check your system here.
If you are not in the Eastern US time zone, it's up to you to confirm what time the sessions are offered where you are. 
Please arrange to be in a quiet room by yourself and log-in at least 5 minutes before each session starts.
How to register
Registration is limited to keep the groups small. To avoid being disappointed, use the button above to register as soon as you confirm your availability.
You'll receive your invitation to register for the videoconference within 24 hours of the start of each session.
Want to learn Reiki at home but can't make these dates? Sign up here to stay informed or email me if you and two or more friends want to schedule a class.