Reiki Treatment
Do you have a health problem you're trying to solve? It could be anything from wanting to stay as strong and healthy as you are now to wondering how you will make it through your next round of chemo. You may suffer from chronic pain or your kid might have ADD, or be on the autism spectrum.
Reiki practice can help in a wide range of situations because it doesn't address the symptom or condition directly; rather, it helps restore balance so you feel better and your system can heal better. This is important for everyone, and even more important if you are a caregiver either at work or at home, because everyone in your care benefits when you feel better.
And that's where we start — by helping you feel better. The feedback from my clients is that they typically start feeling improvement during their first Reiki treatment, although more sessions may be needed to stabilize and strengthen that improvement.
We don't just want you to feel better, we want you to stay that way.
Besides giving you a Reiki treatment, I'll help you create a well-being program that works for you, with steps you'll actually take.
In my comprehensive healing sessions, you'll receive Reiki treatment, insight, tools, and — if appropriate — referrals to physicians and health care providers who will respect your point of view and work with you as partners.
Together we can take you from coping to true healing.
We can start optimizing your health and well-being now. Email me to schedule an individual Reiki treatment and consultation, either in-person here on the Upper West Side of Manhattan (New York City), or wherever you are, on the phone.
Below are descriptions of the three ways we can work together to relieve your suffering, strengthen your wellness, and bring balance to your life—
REIKI HEALING TREATMENT AND INTEGRATIVE HEALTH CONSULTATIONS
Each session is customized to your current need, but let me give you a sense of what to expect when you come here for a healing session. Distant sessions are similar to in-person sessions, but the logistics of course are different.
Since a complete Reiki treatment is the centerpiece of our session, we'll start with you lying on your back, fully clothed, on my treatment table, with support as needed for your comfort, and proceed with a full Reiki treatment.
After your Reiki treatment, we'll discuss your experience, and address your questions. I'll help you strategize how you can regain and  maintain optimal well-being, drawing from my 45 years experience with medical intuition, integrative health care, and healthful lifestyle. Our emphasis will be on what you want to do, what you can do, and what you choose to do, rather than a list of "shoulds" to haunt you.
You will leave here not just feeling better — happier and healthier — but also feeling empowered to address whatever challenges you're facing. My goal is to help you feel better, empower you to stay that way, and be available for the support you want.
When I learned Reiki in 1986, I already had a quarter century of experience in yoga, meditation and natural healing. You get the benefit of that expertise.
I'll help you recognize opportunities to promote wellness in your daily life and, if needed, connect you with physicians and specialists who will respect your preferences. I want to make sure you are getting the best care possible.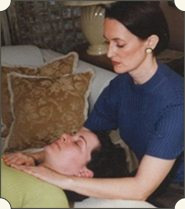 Pamela Miles is inspiring and the consummate professional, gracious, and attuned to each individual with respect and clarity of vision.
– Mae Sakharov, Ed.D.
Your healing session can be in-person, but it doesn't have to be. If you don't live near New York City, we can arrange a distant healing treatment combined with a phone consultation.
When I was suffering from rosacea, I came to Pamela Miles for help. She got right at the root of the problem through several Reiki treatments. For over a year, I have had no substantial rosacea. Ask any dermatologist what a nightmare it is to treat patients with rosacea! I am so grateful to Pamela Miles for teaching me Reiki and for offering her loving heart to alleviate a very humiliating skin disorder.
– Kimora, Ph.D.
Email me to schedule your appointment, or click here to read more about Reiki healing sessions.

INTENSIVE HEALING RETREATS AND SEQUENCES
Do you want to dive deeply within and connect with your innate, profound power to self-heal?
If you are willing to sequester yourself away from your daily distractions for a period of time (usually 7-10 days), we can arrange a multidisciplinary healing retreat. No phone, no computer, no entertainment. All you, all the time. Wow!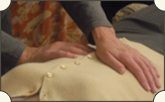 During the retreat, you receive extensive Reiki treatment and individualized training in Reiki, meditation, and yoga. You spend time everyday in contemplative, expressive practices such as journaling and art. Each intensive is designed specifically for the individual client, and may include other practitioners to provide additional expertise and treatment.
You can also make a modified healing retreat for yourself by scheduling appointments for 4 consecutive days. I encourage you to lighten your schedule as you are able to during this time, making space for more downtime and time alone than your usual schedule allows for, but it is completely up to you and people find that they are able to make a modified retreat without being sequestered from their daily life circumstances.
Email me if you are interested in arranging a retreat.

MONTHLY JCC REIKI CLINIC
You can experience a Reiki treatment at low cost at the monthly JCC Reiki Clinic on Manhattan's Upper West Side. You will lie fully clothed on one of six treatment tables and receive a 30-minute treatment, usually from two practitioners, under my supervision. I am there to welcome you, and to answer your questions after your treatment.
Last night, right after the Reiki clinic, I felt relaxed and still felt the warmth from the practioners' hands. When I woke up this morning I felt very different…almost lighter, as if some heavy negativity had been lifted off me. Definitely something great happened because I can feel the difference already!
– Erika B.
The JCC clinic is held the first Thursday evening of each month, except for holidays. The clinic fee is $20.
The JCC Manhattan
334 Amsterdam Avenue at 76th Street,
New York, NY  10023
Preregistration guarantees your space, but we do our best to accommodate walk-ins. You can register here or by phone 646-505-5708. Let us know if you prefer a 7, 7:30, or 8 PM treatment slot, and please arrive a few minutes early.
If you would like to be on my mailing list and receive announcements about the Reiki clinic, sign up here and check the box for NYC public Reiki events.
If you are already a Reiki student or practitioner of any lineage, you are welcome to participate in the clinic. You will receive a treatment yourself, and offer treatment to the other practitioners and to the public, in a supervised treatment environment, with time for discussion and mentoring after everyone has received treatment.