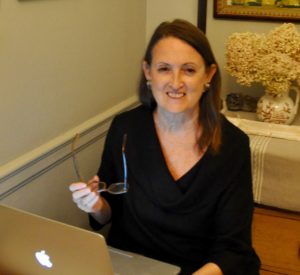 Everyone knows you can't judge a book by its cover. But we do it anyway. Unless we have a really strong recommendation, if we don't like the cover, we don't buy the book.
The same thing happens with Reiki practice. And in this case, the way you communicate Reiki is the cover Reiki practice, and you, are judged by.
Is your Reiki talk working well for you? When you speak about Reiki, are you getting the response you anticipate? Or do you wonder why people don't see what a great opportunity you are offering?
Speak about Reiki so people want to know more
I can tell you how to talk about Reiki so people will listen. And want to hear more.
And, if you are a professional, so they start seeing you as a credible practitioner, someone they can trust, and they become interested in your sessions and classes.
Wouldn't you like to talk to your friends, family, and prospective clients so they see how Reiki can help them?
If you're like most Reiki practitioners, when you talk to friends or prospective clients, their eyes don't light up — they glaze over as the person backs away.
Are you tired of not being heard, frustrated that people don't see the help you know Reiki could bring them?
Let's face it. Reiki is easy to practice and easy to appreciate, but not easy to talk about, even for experienced practitioners.
We can change that!
The world needs more practitioners who present Reiki in a way that grabs people's interest and helps them see the value.
That's exactly what my simple 4-STEP BALANCE SYSTEM does. Its easy to learn and will quickly make your Reiki talk more effective and professional.
You can communicate Reiki more successfully
Many people are interested in the benefits of Reiki treatment, but get turned off by the way Reiki is presented. Maybe that's happened to you.
Use my simple 4-STEP BALANCE SYSTEM to get better results when you speak or write about Reiki.
Communicating Reiki skillfully helps more people see that Reiki practice can help them. And it clarifies your understanding of Reiki practice.
Reiki professionals have unique challenges
If you are a Reiki professional, the 4-STEP BALANCE SYSTEM will help you build your Reiki business so you can help more people doing the work you were meant to do. Any professional who communicates well is more credible, but as a Reiki professional, you need to address these unique challenges:
People have never heard of Reiki practice.
People are misinformed about Reiki practice.
People are prejudiced against Reiki practice due to rampant myths and misinformation.
People don't know there are many varied approaches to Reiki practice.
People dismiss Reiki practice on the basis of one practitioner.
Reiki practice is so effective that your clients stop needing your services, so you need a continual stream of new clients.
What Reiki professionals have said:
Pamela delivers information in a clear, consistent manner that has helped bring clarity to my practice and allowed me to effectively communicate with my clients.
— Nicole Jackson

Pamela provides precise, clear, and highly effective communication strategies you can immediately use in your clinical practice and in your conversations with family and friends about the benefits of Reiki.
— Hilary Furlong


The clarity of Pamela's teaching has been a touchstone for me as a Reiki practitioner working with patients and hospital staff.
— Barbara Hennessy

I've taught my students to have a highly tuned BS detector when evaluating spiritual content. Pamela passed the test with flying colours, as they all commented it was obvious she spoke from hands-on, personal experience, not just theory. Some were already volunteers in the five hospitals where we have permanent Reiki units operating (in just one hospital we gave 3,800 sessions in 2014), and those were the most enthusiastic about Pamela's talk. They said it helped them explain what they were doing not only to patients but also to the medical staff.
— John Curtin, founder, Fundación Sauce, Madrid
Register now if you:
Are tired of being misunderstood or dismissed when you speak about Reiki
Want to serve more clients but you can't seem to interest people in Reiki
Lose confidence in your practice when you speak about Reiki, even to family and friends
Can't make a reasonable argument for the safety of Reiki practice
Think doctors aren't interested in Reiki (meaning you don't know how to get their attention).
Transform your Reiki talk now
What you learn in this class will improve your very next Reiki conversation, presentation, article, newsletter or website copy.
Imagine the difference communicating Reiki effectively to anyone would make to you.
Think of the respect you will command, for yourself and Reiki practice, when you speak about Reiki credibly to the most skeptical people, whether they are your family and friends; people you meet through work or at social events; or doctors, nurses, and other licensed health care professionals.
Four simple steps will change responses to your Reiki talk from "No, Thanks" to "Yes, Please!"
Using your own words, drawing from your experience, you can learn to inspire others give Reiki — and you! — a try.  Please join me.
Sign up here to be notified as I schedule future Communicating Reiki events, or email me to organize this event in your community!
Unable to attend? Look at the online recorded communicating Reiki training.
______________________________________
Communicate Reiki Online
Reiki practitioners in these locations have benefited from Pamela's presentations on Communicating Reiki. The tips shared are just as effective in translation:
UNITED STATES
New York City
Chicago, IL
Philadelphia, PA
Oakland, CA
Atlanta, GA
Denver, CO
Colorado Springs, CO
Phoenix, AZ
Baltimore, MD
Alexandria, VA
Cincinnati, OH
Portland, ME
Lexington, KY
ABROAD
Paris
London
Amsterdam
Madrid
Barcelona
Mexico City
Lisbon
Copenhagen
Dublin
Edinburgh
Porto, Portugal
Evian, France
Salta, Argentina
St. Sebastien, Spain