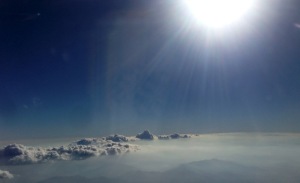 "Should I breathe?" a new client asked as she settled onto the Reiki treatment table.
This was a first for me. I didn't know breathing was optional.
"Yes, please breathe," I said, smiling. "Reiki's more fun when you're breathing."
She laughed. "No, I mean, should I breathe deep and long the way I was taught in yoga class?"
"No, you don't need to work that hard. You'll likely notice your breath changing in a few minutes as your system responds to the Reiki treatment, but that will happen naturally, no effort required."
"So I just need to try to relax?" she asked.
"Oh, no, please don't try to relax," I said.
She looked quizzical.
Reiki healing and relaxation
"Nothing gets in the way of relaxing more than trying to relax," I explained. "What's so wonderful about a Reiki treatment is that it's the end of trying.
"You've already done all the work needed; you're here. Now you can simply enjoy your session, just watch as it unfolds without trying to make it this way or that.
"But if you become uncomfortable for any reason — if you need a blanket, for example — please let me know so I can take care of you. Your comfort is most important and I don't want you lying there coping with anything."
"But what should I do with my mind?" she asked. "Should I repeat affirmations?"
"You can if you want to," I said, "if you enjoy doing that, but you really don't have to do anything with your mind. You can just let it float, just daydream, if you like."
The quizzical look returned.
Reiki practice: effortless and effective
"The hardest thing to appreciate about Reiki practice is how simple, effortless, and effective it is," I said.
"We don't know exactly how or why it works, but we know that somehow a Reiki practitioner's hands remind your body that it knows how to self-heal, and helps get that process started.
"This happens without either one of us thinking about it or trying to make it happen. Both of us can simply enjoy the experience.
"Of course, I have to stay awake to give you the treatment, but you don't have to. You might feel drawn into a deep, sleeplike meditative state that is profoundly refreshing. Sometimes people snore so loudly they wake themselves up!"
Her face was incredulous. "That would be amazing if I could sleep. It's been months since I've had good sleep," she said.
"It might happen; I can't promise details because we have no way of knowing exactly how your system will respond. Reiki practice is balancing, and the self-healing response comes from within you, so each session is unique, and there is no right or best experience.
"What's important is not so much what you experience during the session, but how you feel afterward. For example, if you sleep better tonight. Sometimes it takes a few Reiki sessions, but often sleep improves right away.
"Are you ready to give it a try? If you have questions after your session, we can talk about them then."
After the Reiki session
She didn't have any questions after the session. She said she felt really good, and didn't feel like talking.
To help her notice the after effects of her treatment — the self-healing process that continues after the session has ended — I gave her some homework. I asked her to observe how she felt the rest of the day — any small difference in how it felt to be her — and to notice particularly how she felt when she woke up the next morning, and email me the next day with her observations and any questions.
And I emailed her an article to help her better understand how Reiki helps.
________________
Please signup for my email list. If you give your state or country, I'll let you know when I visit your area. It would be lovely to meet.