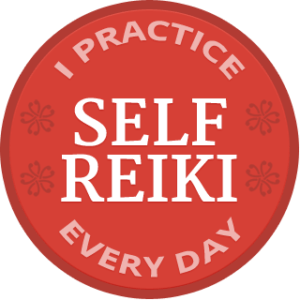 I created the Daily Self Reiki Challenge because people who practice self Reiki every day get the most from their Reiki practice. Yes, every day!
It's easier than you think. I know because I've been practicing every day since my first Reiki class in 1986.
You'll notice some benefits quickly, and that will motivate you to keep practicing. But first you have to start.
Sign up for the 30-Day Daily Self Reiki Challenge and I'll send you a very short email every day for 30 days. Totally free. My gift to you because I want you to experience the difference daily self Reiki can make in your life.
What differences? Things like feeling more love for yourself and others. Being clearer and feeling empowered in your choices. Feeling more creative and less reactive.
And you'll start sleeping better and digesting better, which is so important to maintaining your happiness and health.
My life has been very stressful, but it is better now that I practice self Reiki each day.  I feel confident, in control, and happy.  I am having major surgery on 10/28 and look forward to my self Reiki helping me.—Donna Hemenway
Why not give it a try, even for 5 or 10 minutes a day. Sign up here and see for yourself.
Do you need help with how to self practice?
If you haven't taken a Reiki class — or weren't satisfied with the one you took — take a look at my small group, interactive, live First Degree Reiki online training.
Would you like the Daily Self Reiki badge to add to your Facebook page or website, or your email signature, to tell the world how much you value Reiki practice? It's available free in more than 30 languages.