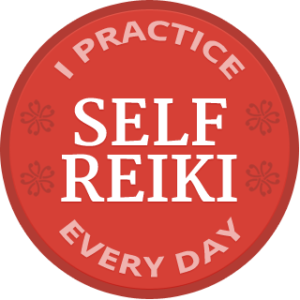 If I were looking for a Reiki practitioner or teacher and I could ask only one question, that question would be:
Do you practice daily Reiki self-treatment?
That's the most valuable piece of information for me to have, and it's a yes-or-no question.
Celebrating daily self Reiki
There's a significant difference between meditating occasionally, and meditating every day. Research indicates the consistency of daily practice is more impactful than the length of time you practice.
No one has done that research on Reiki practice, but it seems reasonable it would be the same. Consistency is key to transformation!
People who commit themselves to their Reiki practice, who practice Reiki self treatment every day, naturally come to understand Reiki practice better than people who practice occasionally.
Isn't that self-evident?
The more we value Reiki practice, the more likely we are to practice Reiki self treatment every day; and the more we practice Reiki self treatment, the more we understand and value Reiki practice.
It's a victorious cycle.
If you're struggling to establish your daily self practice, try my 30-Day Self Reiki Challenge. It's a free month of very short daily emails to inspire and support your daily practice.
You don't have to be a beginner to sign up for the Self Reiki Challenge. People who already have a consistent daily practice find the series deepens their practice. If you're a Reiki master teacher, you're welcome to share the series with your students.
Let's gather around self Reiki
The I-Practice-Self-Reiki-Every-Day badge is a virtual meeting place where Reiki practitioners who share the traditional value of daily self-practice can connect with one another, and where people looking for Reiki training or treatment can connect with us.
Together, as a diverse community of thoughtful practitioners, we each offer the public a respectful perspective on Reiki practice, respectful of the practice and respectful of the individual.
Your Reiki honor
Relying on the honor system, the I-Practice-Self-Reiki-Every-Day badge is available free to Reiki practitioners who practice daily self Reiki to use to publicize their Reiki practice. You know who you are.
A new Reiki student can post the badge on Facebook to proudly announce his/her practice to friends.
A Reiki professional or teacher can post it on his/her website, Facebook page, meetup, etc. so visitors quickly recognize him/her as a serious, committed Reiki practitioner. It's apparent that someone who actually practices Reiki values Reiki practice more than someone who just talks about it.
The more self-Reiki badges are seen, the more the public will realize self-practice is an option. Too often the public only knows of Reiki as a treatment received from others.
New to Reiki? What you need to know
If you're new to Reiki practice, just learning about it and wondering if Reiki can help you, you might be confused by the information you have found.
Here's what you need to know: there are no standards attached to Reiki training, and there are various and sometimes conflicting perspectives regarding what Reiki practice is.
There are many credible and trustworthy Reiki practitioners, and there's no simple formula for identifying them. But it's worth the effort to do the research, because finding a good Reiki connection can be a huge support in your life, even a turning point.
Read everything the practitioner has available — flyer, website, Facebook page, etc. — and ask questions about the practitioner's experience and training, as many questions as you need to feel comfortable. (If the practitioner gets annoyed, that tells you something.)
And specifically ask: Do you practice daily Reiki self-treatment?
Practicing daily self-Reiki is the primary way that we develop as Reiki practitioners. If a practitioner doesn't value the practice enough to practice on him/herself daily, do you really want that person practicing on you, or teaching you?
Daily self-treatment is the foundation of Reiki practice. If I don't practice on myself, where is my integrity when I practice Reiki on others, or teach students to practice Reiki? If I don't practice daily on myself, how will I learn to support the people I practice with or teach?
The I-Practice-Reiki-Self-Treatment-Every-Day badge is freely available to Reiki professionals and teachers who are committed to the traditional value of daily self-practice and want the raise public awareness about it.
To show the world that you practice daily Reiki self treatment, copy and paste this code into your blog post or web page:
Most Used Reiki Badges
Alphabetical Order*
* The badge is available in 33 different languages. We'll make the Badge available in your language too if you send me a translation.
* We'll make the Badge available in your language too! Just send me a translation.
______________
 If you sign up here, I promise to stay in touch!