FIRST DEGREE REIKI TRAINING in New York City with Pamela Miles
One of the best things I ever did was learn to practice Reiki. — Andrea Eisenman

Sign up here and I'll let you know as I schedule more classes!
NEXT NYC FIRST DEGREE REIKI CLASS —
February 8-10, 2019 
Friday, February 8; 6:00 – 9:00 PM
Saturday, February 9; 1:00 – 5:00 PM
Sunday, February 10; 10:00 AM – 2:00 PM
January 26 – February 2, 2019
Saturday, January 26;  11 AM – 2 PM Eastern US time
Sunday, January 27;  11 AM – 2 PM Eastern US time
Saturday, February 2:  11 AM – 2 PM Eastern US time
Want to feel centered and bring a sense of peace and healing into every day?
Learn to practice Reiki.
Give yourself this gift of healing self care, and you are truly giving a gift to everyone else in your life at the same time.
It takes about 11 hours over a couple of days to learn the basics of First degree practice, and that is all the training you need to continue bringing yourself back to yourself at the touch of your hand.
I teach First degree Reiki (also called Level 1) classes in New York City each month. If the timing above doesn't work for you, sign up here, check First degree classes, and I'll let you know as classes are scheduled.
The focus of First degree training is self-practice, and you will begin practicing an hour into our first session. By the time the class ends, you will be confident about your ability to practice and bring more balance and ease to your life.
I feel so fortunate to be trained by you — someone who has deep respect and commitment and an amazing sense of humor, which makes it all so much fun, too! You put care, attention, and warmth into every moment of our time together, making the experience so incredibly special. You are a true master teacher and advocate.  — Sue S.
Are you already practicing Reiki but want more support and confidence? You are welcome to join a First degree class. If you approach the class as a beginner, the experience will clarify your understanding and deepen your practice. I also offer various Reiki continuing education classes.
I want to express my tremendous gratitude for last week's Reiki training. It was truly a wonderful experience and will have lasting reverberations in my life. What a gift! — Kristin Wynn-Paige
FIRST DEGREE REIKI TRAINING
Reiki is easy to learn and easy to practice. I live in New York City, where the pace of life goes from busy to busier, but even my  busiest students easily find time for Reiki self-treatment everyday.
Why is it so easy? Because you can practice Reiki self-treatment in bed as you fall asleep or wake up, or at any other time that is convenient for you, even while you are doing something else. Interested? Read on.
We begin practicing Reiki self-treatment soon after your First Degree class starts, and you leave the training fully empowered to practice Reiki on yourself, and to share treatment informally with family, friends, and pets.
Your teaching was so generous, clear, supportive, and passionate. I am beyond grateful I found you. And the continuing support is so lovely! — Kate Donovan
 It's all about balance
Practicing Reiki self-treatment restores balance on every level, physically, mentally, emotionally, and spiritually. When you live with greater balance in yourself, your relationships with others and with the circumstances of your life generally improve as well, including job and money.
That makes sense, doesn't it? The more balanced we are, the more present we are to enjoy being ourselves, and to appreciate the people around us and the details of our lives, yes even that co-worker who grates on the nerves.
We make better choices when we are balanced, so making a move to restore balance tends to snowball and bring us — you guessed it — more balance, ease and alignment. This shows up differently for different people because we are all individuals in different states of imbalance — and it's all changing constantly.
But one thing is for sure — we don't get more balance in our lives without making a choice to do so, and Reiki practice is a good start, because it helps us feel better, clearer, more comfortable in our skin, and in our bodies.
Your Reiki class is the beginning…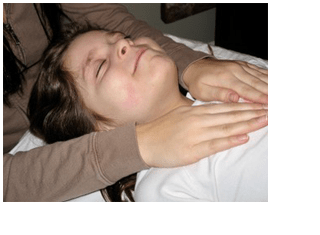 You will learn protocols for self-treatment and for practicing Reiki with others, and we will discuss how Reiki supports your wellness and your medical care, the philosophy and history of Reiki practice, and the Reiki Precepts.
Continuing to practice Reiki self-treatment consistently, every day, over a period of time, is how you really come to understand Reiki, and to reap the greatest benefits: improved wellness, greater happiness, health promotion, disease prevention, and an enhanced sense of meaning in life.
First Degree Reiki training is where everyone begins, even if you are planning to become a professional. You are welcome to take a First degree class even if you are already trained to practice Reiki. Whether you are a First degree, Second degree or Reiki master practitioner, the class will deepen your practice and your understanding. (I also offer Reiki professionals classes to strengthen your practice, build your clinical skills, and raise your professionalism under Reiki Continuing Education.)
My First Degree classes are either on three weekday evenings or Friday evening and all day Saturday.
The number of students in each class is limited to ensure ample time to ask questions and share your experience.
Reiki practice and family wellness
Want to give your family the gift of wellness?
Families who practice Reiki learn to take responsibility for their health, and become engaged in a culture of wellness and health promotion.
Children can learn to practice Reiki and enjoy sharing it with others. Email me to discuss how we can bring Reiki to your family.
I am also available to teach at your workplace or organization. Email me to talk about customizing a class that best serves your needs.
While receiving a brief sample of Reiki touch at an information session Pamela gave, I instantly connected with Reiki's deep comfort and potential for healing. I was quite burnt out, having just moved to NY after spending three years in Colombia and Africa in humanitarian aid work.

After taking the First Degree class with Pamela and practicing self-treatment for a couple of months, I had greater resistance to stress, and felt less fatigued, more clear and able to concentrate on building a healthy eating, exercise and life routine that till then had felt beyond my reach.

I came to Reiki hoping to alleviate a lifelong hormonal imbalance, depression, weight gain, the stress of constant travel for work, the strain of living far from home and family, and I see significant improvement in all those areas.
— Paula L.
Reiki practice is balancing to the individual, so it can help in any situation. Even when Reiki practice is not all that is needed, it is a good place to start, because you'll notice improvement quickly.
Once you start feeling better, you are better able to address any changes that need to be made. Reiki practice also helps balance the side effects of needed medical treatments.
These real life Reiki stories shared by people like you give examples how Reiki practice has helped other people address a wide range of challenges.
NYC First degree Reiki class schedule

Upper West Side Manhattan location; class address sent with your confirmation.
Reserve now with a nonrefundable, nontransferable deposit and complete your balance before we begin the first class session.
2019 Reiki Classes
February 8-10, 2019
Friday, February 8; 6:00 – 9:00 PM
Saturday, February 9; 1:00 – 5:00 PM
Sunday, February 10; 10:00 AM – 2:00 PM
Class Fee $365
March 8-10, 2019
Friday, March 8; 6:00 – 9:00 PM
Saturday, March 9; 1:00 – 5:00 PM
Sunday, March 10; 10:00 AM – 2:00 PM
Class Fee $365
Register here for Mar 8-10 Class
April 5-7, 2019
Friday, April 5; 6:00 – 9:00 PM
Saturday, April 6; 1:00 – 5:00 PM
Sunday, April 7; 10:00 AM – 2:00 PM
Class Fee $365
Register here for April 5-7 Class
May 3-5, 2019
Friday, May 3; 6:00 – 9:00 PM
Saturday, May 4; 1:00 – 5:00 PM
Sunday, May 5; 10:00 AM – 2:00 PM
Class Fee $365
Register here for May 3-5 Class
May 31-June 2, 2019
Friday, May 31; 6:00 – 9:00 PM
Saturday, June 1; 1:00 – 5:00 PM
Sunday, June 2; 10:00 AM – 2:00 PM
Class Fee $365
Register here for May 31-June 2 Class
If those dates don't work for you, sign up here and I'll let you know as more classes are scheduled.
IMPORTANT REIKI CLASS DETAILS — please read:
All sessions start promptly; ending time is approximate.
You will begin practicing Reiki on yourself during the first session. It is necessary to attend all sessions in their entirety.
There are limited spaces in each class. A nonrefundable, nontransferable deposit of $165 reserves your space. The balance is due before we begin class. All classes are on the Upper West Side of Manhattan. You will be sent the precise location after you register.
Please purchase a copy of my book, REIKI: A Comprehensive Guide, before class, either here or at your local bookstore. It is not necessary to read it cover to cover before class, but do read the introduction and first chapter, and browse the contents. The book will become a supportive companion to your continuing practice. It's best not to do any other reading before class.
Would you like to arrange a class for your family, friends or business? Email me and let's talk about it.
I look forward to teaching you to easily restore balance to yourself and your life, so you can be happier and healthier.
FIRST DEGREE REIKI TRAINING FAQs
Q. What will I actually do during my First Degree Reiki class?
A. You will start practicing Reiki as soon as we finish introducing ourselves. The core of Reiki training is a series of initiations that empowers you to practice, and I give the first of four initiations an hour or so after the class begins. Initiations can be understood as subtle, targeted healings offered by a qualified Reiki master. The initiations enable you to connect spontaneously with the pristine core of wellness that exists within all of us, no matter how ill or unbalanced we are at any moment. The ability to empower students to practice Reiki has been passed down the lineage of Reiki masters that started with Mikao Usui in Japan in the 1920s.
Q. Will I have homework?
A. Yes, you will — to practice at home as much as you can. I know you are busy, but you'll find this surprisingly easy to do.
By now you'll be intrigued by your new Reiki hands and look forward to practicing at least 20 minutes each day, which most students do in bed, while falling asleep or upon awakening. You will also find moments in your day to connect with the refreshing presence of your Reiki hands. In the midst of a stressful day, even a minute of one hand placed unobtrusively on your body can make a difference in how you feel.
As you practice on your own and notice both the delightful sensations that often accompany a Reiki treatment and an overall lift in well-being, your confidence and motivation will grow. This is important, because continuing to practice everyday is how you will get the most benefit from Reiki, and how your understanding of Reiki will deepen over time.
Q. Do students really feel that they are able to practice after 10 hours of training?
A. By the time the class ends, students have logged in hours of practice sessions in class and at home, and are enthusiastic about the benefits they're experiencing. Reiki practice brings a sense of comfort and students are delighted by their daily practice.
The most challenging part of Reiki practice is appreciating just how easy it is to practice. This is not a skill-based practice; students are literally empowered to practice, a gift received during the training. And we don't have to work at receiving; we just have to show up. With Reiki, the way we show up is by practicing regularly. As renowned yogamaster Pattabhi Jois famously said, "Practice, and all is forthcoming." True for practicing yoga, and true for practicing Reiki.
The second most challenging part of Reiki practice is understanding the importance of daily practice. Daily, as in every day.
It's as if a great benefactor wants to give you a fortune, but that fortune is too big for you to receive all at once; you can only receive its fullness gradually, by practicing daily self-treatment.
Students often mistakenly take another, higher-level class to advance their abilities, but Reiki is primarily developed through practice. Most people only need First Degree training to practice Reiki effectively for the rest of their lives.
Q. Any follow-up? Do your students have continuing contact with you?
A. Yes, it is important for a student to have continuing support and I offer my students many avenues of support to meet their diverse needs. Most importantly, I create in-person community at my public monthly JCC Reiki clinic where we practice together, share experiences and discuss questions, and special practice sessions and reunions open to my students only.
My book REIKI: A Comprehensive Guide is a practice guide that students keep handy and refer to over and over. I am personally available to my students through email and offer online support on my blog and facebook page.
Students bond easily during classes, and I encourage them to continue sharing Reiki treatment with one another after the training ends.