In the first article of this Writing Reiki series, guest blogger Reiki master Colin Powell shared historical background on writing the Japanese language. In Part 2, he unlocks the deeper meaning of the term Reiki. Understanding the Japanese translation of Reiki helps us retrieve what has been lost in contemporary translations.
WRITING REIKI, PART 2: Understanding the Japanese Translation of Reiki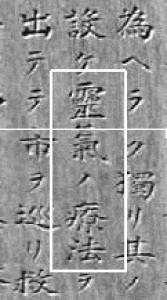 If we look at Usui's Memorial Stone (at right) or early Reiki certificates from the 1930s, we see the phrase Reiki Ryoho written in the original kanji characters. This is how Mikao Usui and Chujiro Hayashi would have written it. Some of the more traditional Japanese styles of Reiki are now using the original kanji, or at least teaching about it.
There is, however, some reluctance to use the original Reiki kanji in publicity material in Japan because, although the memory of Usui Reiki Ryoho all but disappeared after World War 2, an awareness of Reiki has resurfaced in an unusual way. Many Japanese people, especially the younger generations, have become aware of Reiki through popular entertainment.
Lions and tigers and ghosts, oh my!
Japanese anime films and manga comics portray Reiki as a magical force or a sword of great power, even though the actual kanji used is different. Between that popular misrepresentation of Reiki and a meaning of the original Reiki kanji that carries connotations of spirits, ghosts and psychic phenomena, Reiki teachers in Japan have to be careful not to give potential students the wrong impression about Usui Reiki Ryoho.
That brings us to the question, what does the original kanji for Reiki actually mean in regard to the practice of Usui Reiki Ryoho?
Reiki kanji meaning
In the kanji for rei (see below), we see the canopy of heaven from which four drops of rain (ame) are falling into three containers or mouths (kuchi). The symbolism of water is very significant spiritually in that it is endlessly adaptable. Water is responsive, changes form, and flows easily around obstacles, but when necessary, water also has the capacity to slowly dissolve obstacles and carry them along.
Below the rain and containers, a shaman, usually a female (miko), stands on the earth, arms outstretched and tassels hanging down.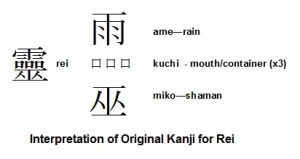 Chinese roots of the Reiki kanji
As mentioned in Part 1 of this article, the Japanese kanji are actually derived from Chinese characters. If we look at the earlier, Chinese interpretation of this character, pronounced ling in Chinese, (see below) this is sometimes broken down into just two parts: drops of rain (also pronounced ling), in which the mouths are interpreted as large raindrops,1 and a shaman, witch or sorcerer, pronounced wu in Chinese.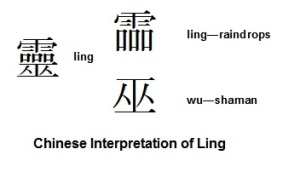 We can even break down the character wu further (see below), into the work (gong) of two people (ren written twice). If we look at a still earlier version, for example in a seal script,* we can see that the work the two people are doing is praying or dancing. Further, the two people shown are mirror images and may represent that it is necessary for the shaman to balance her dual human nature (spiritual and material) in order to perform the work of praying for rain.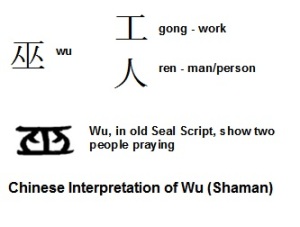 The kanji for ki (see below) consists of the radical, kome or rice, surrounded by a vapour or steam (also pronounced ki), representing the steam given off when rice is cooking in a pot.2 The character for ki was originally written as three wavy lines, which symbolised air or breath3 – ki being something that could not be seen but could cause change and be felt.4 We see that there was originally a sense of ki being more like an invisible vapour or atmosphere that could be felt, or the breath of life, rather than being life force energy.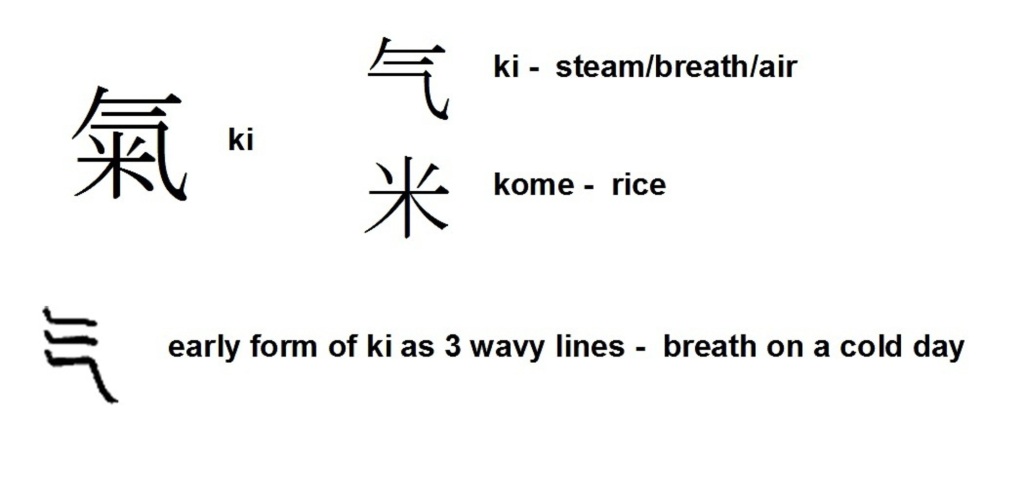 Reiki trinity
Putting this symbolism together, we have a representation of the trinity found in many diverse spiritual traditions: Heaven, Earth and Man, known as Ten-Chi-Jin in Japan.
In the kanji for rei, which on its own means spirit, soul, ghost, divine, sacred, the rain symbolises life-giving energy from heaven in the form of water, collected in the three containers or mouths where it can directly revitalise mind, body and spirit.
The shaman acts as an intermediary between heaven above and the earth below, where the energy-giving rice grows and provides mankind with sustenance and energy from the earth. Thus, the heaven energy combines with the earth energy in the heart of the shaman, allowing her to become fully balanced as a unity and realise her true nature.
This is the spiritual essence of Reiki practice: the Reiki practitioner or teacher, through Reiki practice, balances her own mind and body (or spiritual and material aspects), just as the shaman does.
Reiki kanji today
If we look at the modern kanji for Reiki (see below), much of this rich symbolism is lost. There are no containers or mouths to hold the rain from heaven, and no shaman. The rice grains, which in the original kanji give an impression of radiance, have been replaced with what looks like a dagger or an X, which implies cutting off or cancelling the energy from the earth, symbolised by steam.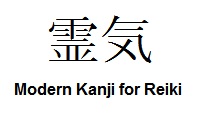 If more Reiki teachers taught the deeper symbolism and meaning of the Reiki kanji, students would start with a greater understanding of Reiki practice, leading to a more profound experience for teacher, practitioner and client. The system of Usui Reiki Ryoho is much more than a hands-on complementary therapy.
How do you think we might best write the term Reiki in our publicity material, according to the original or the modern kanji? Please share your thoughts about the Japanese translation of Reiki in a comment below
*Seal script, or more correctly in this case, small seal script, is even older than the usual kanji (Chinese: hanzi) used today. It developed from characters carved on bronze objects  (which in turn developed from etchings on oracle bones), and dates from around the 3rd Century BC. Since the characters were etched onto metal, they tended to be quite simple and fairly angular. Nonetheless, seal script often manages to capture an element of flow, and sometimes includes curves. Eventually the script became used on seals (chops, stamps or signets) as a way of signing or sealing official documents or works of art, which is where derivatives of seal script can be seen today, as a rectangular or circular stamp, usually in red ink.
References:
1. https://www.chineseetymology.org/CharacterEtymology.aspx?characterInput=%E9%9C%9D
2. https://www.mts.net/~bodnaryk/KanjiListOnline.html
3. https://www.chineseetymology.org/CharacterEtymology.aspx?submitButton1=Etymology&characterInput=%E6%B0%94
4. https://damo-qigong.net/qi-theory.htm
Thank you to Paul Selk for his support with resources and fact-checking.
AS A SPECIAL GIFT Here is a pdf version of the entire article, "WRITING REIKI: The Evolution of the Term Reiki in the Japanese Language," which you're welcome to print for your personal use or to help your Reiki students understand the Japanese translation of Reiki with more nuance. You are also welcome to link to the pdf on this blog, but you do not have permission to post the pdf online or to publish it in print.
L'evoluzione del termine REIKI nel linguaggio giapponese is an Italian translation of this article you can print and share as is, without copying or changing the content or presentation in any way.
Escrever Reiki a Evolução da Palavra Reiki no Língua Japonesa is a Portuguese translation of this article, What Does the Reiki Kanji Really Mean, and Writing Reiki that you can print and share as is, without copying or changing the content or presentation in any way. Please do not email or post it on your website, but you are welcome to post a link to the article here. Thank you for your support.
RELATED READING that addresses the complexity of Japanese translation of Reiki:
Writing Reiki (Part 1)
Reiki Is Not a Word
_______________
Want to be informed of more articles like this? Join my email list here!