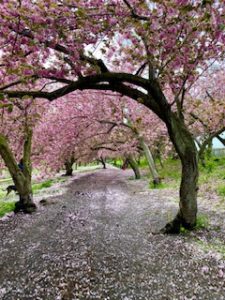 Have you ever noticed how similar being in nature and Reiki self practice make you feel?
Our days of Covid confinement coincided with the cherry blossoms in New York City's Central Park. Nearly every day, I've strapped on my mask to stroll the path.
I saw the first tiny buds appear, watched as branches exploded with blossoms, and now I'm savoring the pink snow blanketing the path.
It makes me sigh. And reminds me of the yawns that often punctuate my Reiki self practice.
Nature research
I'd been aware of research documenting the healing effect of nature long before The Gates was installed in Central Park.
Patients who saw a nature photo on the ceiling while waiting to be wheeled into surgery had better outcomes. So did patients who could see nature out their hospital window or who even an image of nature in their hospital room. Studies have shown better health statistics in neighborhoods immediately surrounding green space.
Living on the concrete island of Manhattan, I found the studies very interesting, but I had no felt personal experience.
Nature is balancing
That changed in February 2005. Every day for the two weeks of The Gates, I bundled up to stroll the path adorned by 7,305 saffron fabric panels.
I don't know why I did that. I'm not really a nature gal, and I'm no fan of cold weather. I was used to spending February indoors, or in a cab going from one interior to another. And February 2005 was quite cold.
The impact of two weeks of daily strolls in the cold surprised me.
Even though I was already in good health, I noticed a subtle yet unmistakable improvement in how I felt. I really didn't want that to be true because I'd rather spend winter indoors (or in Mexico). I didn't know why it was true. I had an active yoga practice so it wasn't the physical activity.
Still, I couldn't deny my experience. I kept contemplating.
Reiki is balancing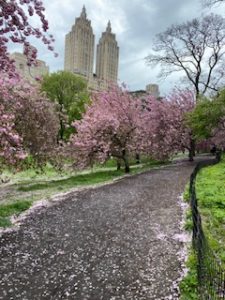 Finally I realized walking in the magnificent trees in Central Park–or any other natural environment–gave me the same sense of balance I feel after Reiki self practice.
Aha! Both nature and Reiki practice are balancing.
When we're balanced, we feel better and we function better. And we make better choices, ones that help us stay balanced. Choices that are kind to ourselves, to others, and to our planet.
It's really so simple. It's an improvement we can feel.
And it's not mere suggestion; it's a measurable, reproducible physiologic shift.
We often don't notice how unbalanced we've gotten. Reiki self practice makes it so easy to come back to ourselves quickly.
Let's balance together
Since early March, I've been leading free online global I Love MySelf Reiki self practice sessions. Nearly 14,000 people from 88 countries have registered. We come together online on Tuesdays and Saturdays, as you are able.
As we balance ourselves through Reiki self practice, we experience our true nature. Our state becomes steadier. We're more creative, less reactive.
As we balance ourselves, we balance our world. And maybe even help protect nature and our planet. Isn't that something you want to be part of? Let's take refuge in our practice and our diverse global community.
Please join us, and invite your friends.