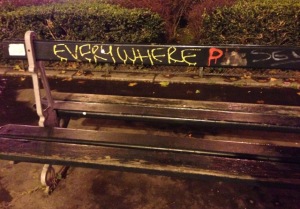 Reiki for skeptics. To some, that thought seems impossible. Absurd, even.
Knowing I've been collaborating in medicine as a lay Reiki master since the mid-1990s, Reiki professionals often protest: You don't understand, the doctors here are conservative.
Reiki for skeptics and conservatives
News flash! Doctors everywhere are conservative.
And that's exactly what we want them to be. Doctors make recommendations that affect people's lives. We want doctors to make those recommendations carefully, conservatively, relying on research data and clinical practice.
It would be dangerous for doctors to capriciously jump on board every new health fad without getting the facts and thinking it through.
First state the Reiki facts
Doctors aren't the only ones who prefer facts.
We all have our moments of skepticism, especially when moving into unknown territory. And when we feel skeptical, we look for facts to help us decide if something is worthwhile pursuing.
People who are put off by claims will perk up when presented with relevant facts.
When introducing Reiki practice to someone, try leading with the facts that are of most interest to the person in front of you, which is: how can Reiki practice help that person (or his/her family or patients)?
What qualifies as a Reiki fact?
Reiki facts can be personal and anecdotal, as long as you state them simply, such as, "After I practice my self Reiki each morning, I feel calm and settled in myself. My mind is clear and I'm ready for my day."
Reiki facts can also be research-based, such as, "Although we don't yet have many well designed Reiki studies, reduction of pain and anxiety are two benefits that show up frequently across various populations."
If you are a Reiki professional, you can share the commonly reported benefits from your clinical practice, such as, "The benefits I hear most often from my clients are that they feel better, they have less pain and anxiety, and they start making health-promoting choices in areas where they had been struggling, such as food and exercise."
Or, "My students who are in treatment for cancer tell me their Reiki self practice relieves the exhaustion and aches they feel after chemotherapy."
Then stick with the facts
Then stop talking and let the other person continue the conversation, or not.
If you've shared any of the above information in a reasonable, personable way, speaking calmly, making eye contact, remembering you are the living representation of the end product of Reiki practice — if you've done that, you've done enough.
Now let it be.
Reiki skeptics
Peter Ustinov said, "Beliefs are what divide people. Doubt unites them."
Why not play to people's natural tendency to doubt, and let every discussion of Reiki be Reiki for Skeptics?
Speak to people's skepticism and you won't turn off anyone who is new to Reiki practice. Rather, they will feel reassured that the matter is worth learning more about, and perhaps they will move closer to experiencing Reiki for themselves.
Skeptics, not cynics
Please note we're talking about skeptics, not cynics. Don't even start the conversation with a cynic, or anyone who doesn't seem open-minded enough to have a conversation.
How can you tell? If you are paying attention, you can tell.
And if your enthusiasm for Reiki practice has kept you from seeing the other person, if you've let your passion for Reiki practice override your good sense, then exit the conversation gracefully and chalk it up to experience.
Contemplate where things went awry, and make the effort to be more present next time. Since many people are interested in the benefits of Reiki practice — benefits such as being calmer and having less pain and anxiety — you can be confident there will be a next time.
________
Ready to enhance your Reiki professional skills?
Let's stay in touch! Sign up now for my free ReikiUpdates.