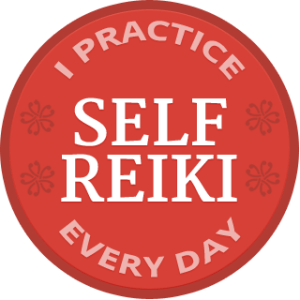 Are you ready to spring into your new Reiki self?
You know, the one who looks a lot like you except more lustrous, more radiant, happier, beaming even. The version of the self you would be if you practiced hands-on daily self Reiki.
As in Every Day.
Oh, you already do that? YAY!
So then, the version of yourself knowing you are practicing with an international and diverse Reiki community, all of us lovingly taking care of ourselves, every day, creating and re-creating the best possible version of ourselves, making our world a better place, every day.
Every. Day.
So many tools, so little time
Are you saying, "I have so many tools, I use the one that seems right each day. (Or at least most days.)"
If so, then you have an (almost) daily self care practice. That's a good thing, a very good thing!
You could continue that and also have a daily self Reiki practice. Here's how: while you're deciding which tool to use today, place your Reiki hands on your body. That will bring the balance you need to see more clearly what else you might need that day.
That C word
Some Reiki practitioners have trouble with the Commitment of daily practice. Or with the idea of the commitment of daily practice.
Please think about it. Aren't you committed to your well-being, every day?
Every day, so many things happen that throw us off center. How many things happen to bring you back?
When you commit to daily self Reiki, you know that every day, at least one truly wonderful, remarkable thing will happen to bring you back to yourself, your own deepest, truest self.
And really, you're already committed to a number of self care practices and know how deeply they support and nourish you. You eat every day. You sleep every day. Even if you don't bath every day, you at least brush your teeth every day. (Don't you?)
You can easily add some hands-on time while waking up or going to sleep. Or both. Or any other time.
Just choose a time that works well with your schedule, and meet your Reiki hands then, every day. Soon you won't be able to imagine a day without the delicious support or your self practice.
I'll make it easy to get started by sending a brief email to support your self practice every day for 30 days, starting April 1 (or any time after that). Just click here and leave your email so I know where to find you. You can unsubscribe instantly any time you want. And know I take our relationship very seriously and would never share your information with anyone, ever.
If you need help with self Reiki — if you've forgotten how to self practice or were never taught — here's a simple self Reiki approach you can try.
A healthy self Reiki habit
Our systems respond to habits. Daily self Reiki is a healthy habit that leads to other healthy habits.
When we feel better, we make better choices, ones that help us stay better. Not only the obvious ones, such as better food choices, but also smaller ones you could easily discount, such as parking your car farther away, or getting off the bus at an earlier stop so you get to walk a bit.
The commitment is to yourself, to your health and well-being, and from that foundation, to building a better world. Every Day.
Free support
Your 30 days of Daily Self Reiki email support start as soon as you sign up to join us! And please share this invitation with your Reiki buddies.
Let's come together as a diverse community and start a gentle self care revolution, with great love.
RELATED READING
Reiki Practice Badge of Honor