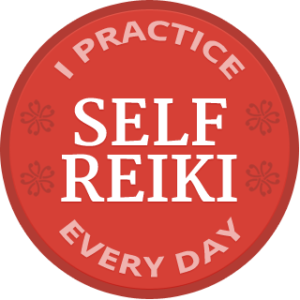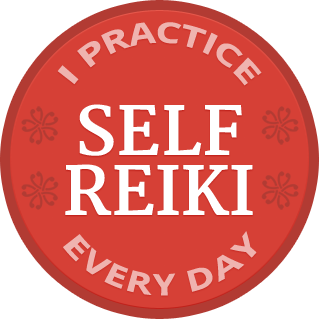 At the beginning of 2014, I launched the I-Practice-Self-Reiki-Every-Day badge to support and inspire Reiki practitioners in daily self care, the foundation of traditional Reiki practice.
I also wanted to increase public awareness of Reiki practice, and particularly to highlight self practice, hoping to expand public perception beyond Reiki as an intervention, like massage, that one receives from someone else, to the empowerment of self care.
We now have 30 translations of the badge, and will happily add yours, too, if you email me the translation.
The badge is free for anyone to use on their website, Facebook page, email signature — anywhere you want to declare your daily Reiki self practice.
Reiki oops
I thought I had found a value our diverse Reiki community could unite around, and that collectively we might offer some good news and encouragement to a world so steeped in bad news.
And for the most part, the badge was received in the spirit in which it had been offered, with enthusiasm, openness, and love of Reiki practice.
But there was also criticism, coming most often from Reiki masters I know to be dedicated, longstanding practitioners who deeply share the value of daily self practice. Although I am no stranger to criticism, and happily accept it as the price of stimulating deeper thought, the criticism of the badge came as a surprise.
Some of my colleagues experienced the badge as pressure. Some said it was commercial (I am not selling anything attached to it). Others said I was making a competition of Reiki practice. Some accused me of causing a division in the community between those who practice daily self Reiki and those who don't. And some said their daily self Reiki practice was nobody else's business.
Mindful, anyone?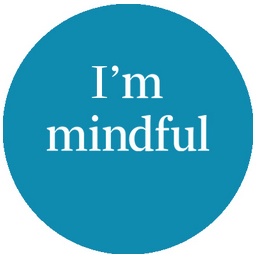 This morning I came across the mindful equivalent of the self practice badge.
"Are you mindful?" the headline reads, "Tell the world."
Of course I love the mindful badge. I wonder if it has ignited similar controversy, and if so, if the antagonists are mindful of their motivations.
Declaring your mindful intentions
Imagine the impact — in our own lives and in the world we live in — of being mindful and practicing daily self Reiki.
And letting the world know.
What positive commitment are you willing to declare publicly? Please post as a comment below, or click here if you are reading in your inbox.
____________
Do you like the response you get when you talk about Reiki? Would it help to get communication tips and strategies from someone who has been successfully communicating Reiki to the public and in medicine for two decades? Check out these resources to improve your Reiki talk:
4-Step Balance System for Communicating Reiki to Everyone
Together let's bring Reiki practice to the mainstream.