Here in the U.S, we are about to celebrate the experiment in freedom we call home.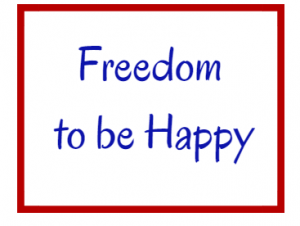 One of the many freedoms we have is the freedom to practice Reiki.
Every morning, my Reiki self practice opens an inner spaciousness, an inner expanse where my heart smiles and I can choose to be happy, where I find the freedom and the power to choose to be happy.
Why wait for happiness?
Why wait passively for happiness to show up?
You can choose to be happy. Right now. This moment. That's what Reiki founder Mikao Usui encourages in the Reiki Precepts, his Secret to Inviting Happiness.
Do you find the option of choosing your happiness appealing, but wonder how in the world you might do it? It's much easier than you imagine, with just a little help from a friend.
Click here to receive three weeks of free daily happiness reminders. They are short enough to read and smile.
And they are my gift to help you celebrate your true freedom, the freedom that lies within each of us. Thousands of people have already found these reminders effective. You could be one of them.
Here's how the daily happiness reminders have helped others, in their words:

I am having some craziness in my life at the moment, and I have to say, when I read your email, it stopped my thought pattern and redirected me to remember to be happy!!!! — Lynne Novenstein
I feel love and wisdom through your words and messages of the happiness practice. With much gratitude! — Joan Garro
Pamela, thank you for bringing happiness into my life. One message, one thought at a time, we continue raising the vibration of the collective consciousness. — Tere Bennett
Can we meet?
If you live in NYC and you'd like to celebrate freedom by practicing together in-person, please join us Thursday, July 6 for our monthly JCC Reiki clinic on the Upper West Side in Manhattan. 
You'll meet a group of wonderful Reiki practitioners, receive a treatment, practice with others, share conversation and enjoy a very tasty, very healthy chocolate!

Starting your own community clinic
If you are a Reiki professional and you don't live near NYC, why not read about our clinic anyway? Maybe you'll be inspired to start one in your area, and help bring happiness to more people in your area.
Public Reiki events are an effective way to introduce Reiki practice — and yourself — to your community. It's a big undertaking, and definitely worth the effort. You don't need to reinvent the wheel. Check out this recorded training.
Wherever you are, treat yourself to a little extra self Reiki practice and have a safe and blessed weekend!