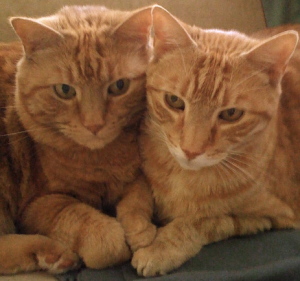 Muriel Stockdale strode up Fourth Avenue in New York City on an unusually cold November morning in 1996. An artist and Second degree Reiki student, Muriel was en route to support my Reiki class at Beth Israel Medical Center's HIV clinic.
She stopped moving when she heard a plaintive meow, and noticed a homeless man selling kittens out of a box. The second of Muriel's two cats had recently died. The kitten continued meowing as Muriel lifted him from the box with his orange brother.
The sale took place in front of a pet store, so Muriel went in to purchase a carrier. But the store owner wouldn't take her money, insisting she accept a Rocket Man carrying case as a gift. Muriel draped her shawl over the lid to protect her kittens from the bitter cold and hurried to the hospital, where her determination took the three of them safely past security.
The director of complementary therapies was happy to have kittens in his office for the day. By lunch, the kittens had visited every office and lapped up a bowl of milk.
Muriel had an appointment that evening, and left the kittens in their Rocket Man carrier with a note of introduction for her husband.
She came home to see the always dapper Chris playing with the kittens on the floor in the semi-darkness, his coat beside them, scarf still around his neck.
"Who's are they?" he asked. The response, "Ours if you want them," brought a sigh of relief.
Naming the kittens was easy. Muriel felt they were a gift of her Reiki practice, and so they become known as Hawayo and Takata.
__________________
Looking for make a connection? Sign up for the email list here!
Have you experienced direct blessings from your Reiki practice? Please share it in the comments section.
Related post: Reiki Connection