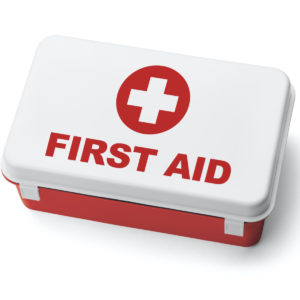 You're at the site of an emergency. What do you do first, practice emergency Reiki or call 911?
Students often ask this question, but usually you don't have to choose: practice Reiki with one hand, call 911 with the other. Put the phone on speaker and use both hands to take care of the injured person.
At the same time, observe the patient and use whatever emergency training you have.
Reiki practice supports medical care
Don't think of Reiki instead of medical care.
Let Reiki practice be your first reflex, offering even one Reiki hand while you dial 911 with the other and evaluate what else you might do, or follow instructions given by phone. Your Reiki practice will steady both you and the patient, helping you think more clearly and take more useful, safe actions.
An hysterical patient is difficult to treat. In this scenario, even moments of Reiki practice helps calm the patient, making it easier to communicate, and possibly preventing the person from hurting himself further by thrashing.
Breathing usually improves in response to Reiki treatment, and that's always a step in the right direction. More easeful breathing helps the body engage its capacity to self heal.
Practice emergency Reiki how?
An emergency is not the time to think of giving a structured Reiki treatment. Just do what you need to do and keep a hand on the patient as you are able to and anywhere you can, avoiding a burn or an open wound, unless pressure is needed to stop bleeding.
Remember, once you're Reiki-trained, your hands carry the potential to practice Reiki regardless your intention or awareness. In an emergency, the person in acute need will respond to your Reiki hands whether or not you're thinking about practicing.
Reiki practice doesn't require focus or intention. First responders often don't notice their Reiki hands until after the crisis is managed and the patient is stabilized. Until then, they've been focused on their medical work.
Read more about how Reiki practice provides emergency support.
If you have offered Reiki in an emergency, please leave a brief comment describing the situation, what response you observed, and what the medics had to say.
And if you are a physician or other emergency health care practitioner with advice to help lay people address emergencies more effectively, please take the time to teach us.
Related reading:
Airport Emergency Reiki
How Reiki Treatment Helps Heart Attack Patients
Reiki Is Safe
How Reiki Treatment Helps Doctors
_________________
Stay in touch. Signup for my email list!
INTRO to MEDICAL REIKI RECORDED TRAINING
Have you been waiting for online training to help you bring Reiki into hospitals and other health care settings? Wait no more. The Intro to Medical Reiki recorded training offers skills and strategies to get you started in health care. Let's get Reiki practice where it is especially needed, and raise the professionalism of Reiki practice. Learn more here.