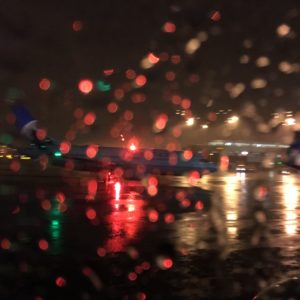 Our long awaited departure was not as anticipated. Fog had reduced visibility to a quarter-mile, limiting the number of planes able to land and become available for other flights. 
Seven hours past our scheduled departure, as we finally walked through the now empty airport to our gate, I saw a woman walking alone ahead of us fall suddenly on her back.
I raced to comfort her, placing my hands on her torso to practice Reiki, watching her face for signs of response.
She lay still for a few moments, perhaps unconscious, before showing signs of struggle. Her eyes flew open, full of fear. Her face grew purple, then contorted in agony. Her wrists cocked sharply as she began to seize.
Keeping my hands on her, I called into the empty space around us for a doctor. Blood flowed in a widening pool off the left side of her head. The convulsions stopped and her eyes opened again.
A man of generous heart pulled off his shirt in the cool hall to wrap her head. He told me to help roll her on her side so fluids could drain from her mouth. I followed his lead and maintained hand contact.
Another man arrived from the right and moved in close to her face, calling to her to stay with us. When a doctor arrived, I slipped away to give him access.
A bit later, she was wheeled past as we sat waiting to board, the stretcher configured so she was upright. She was conscious.
I caught up to the medics as she was wheeled into the elevator. As a stranger, I could not ask her condition, so I told one medic I had been the first person to reach her and asked if he had any questions about what happened. He said, no, she was all right, and kindly offered his thanks. 
Did Reiki practice help the woman? I cannot know for certain, but my experience says it likely did some good. And since that evening, my heart burns with a fierce gratitude that I am able to offer Reiki service.
Do you have a Reiki story to share? If it is short, please leave it as a comment below, or read about writing a guest post here.