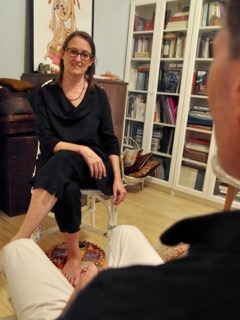 A participant in this week's free online Reiki Mentoring session asked a question about ethics:
How much should the Reiki practitioner be talking with the client? Is he/she allowed to ask questions, talk about client's health, life, relationships and problems, etc.? Or should he/she mostly listen and then practice Reiki?
"Should" is a word I'm very careful wielding. It's just so loaded.
And yet, sometimes "should" applies, as when discussing ethics. When we move from Reiki self practice to practicing on other people, it's time to contemplate ethics.
Ethics guide what we do, and what we don't do, including our conversation with the client.
Ethics and safety: first do no harm
What are the ethics of practicing Reiki on others? Reiki practitioners do well to follow medicine's lead: first, do no harm.
Given the medical consensus that Reiki practice itself poses no risks — light non-manipulative touch and no substance ingested — how might someone be harmed in a Reiki session?
You guessed it: people can be harmed by Reiki practitioners who overreach, who don't honor what medicine refers to as "scope of practice."
Gauging from the complaints sent from the public to my inbox, that's not a theoretical concern. Many people come away from a Reiki session distracted from what would have otherwise been a positive experience by something the Reiki practitioner said.
Well-intentioned Reiki practitioners — people with good hearts who want to help — too often overreach in their conversation and create unnecessary upset.
It's easily done, and it can be avoided. Shall we think this one through?
Reiki scope of practice
Your scope of practice is to practice Reiki and structure the session so your client feels supported and notices some benefit.
Now, you know Reiki practice is effective, or you wouldn't be offering it.*
Given that you know Reiki practice is effective, that you have confidence your Reiki treatment will evoke a gentle yet profound balancing response from within your client's system that can continue long after the treatment has ended, why say anything that might distract your client from the remarkable self-healing process occurring within him?
A risk not worth taking
A well intentioned yet unskillful comment from a Reiki practitioner can easily open a psychological can of worms and leave the client distressed. That's a risk not worth taking because you cannot be sure you are adding benefit.
If you open a wound, the client is unlikely to come back. Your client doesn't know Reiki practitioners have extremely diverse approaches. He could become soured against Reiki practice across the board, and not seek help elsewhere. Are you so sure your words will help that you are willing to take that risk?
What to do?
If you are a Reiki practitioner, practice Reiki.
If you are a health counselor or a psychotherapist, that's a different scope of practice.
You can structure your Reiki sessions so you and your clients feel supported and successful, so your practice grows and you can help more people. Learn how to structure your Reiki sessions for success.
*If you don't yet have enough Reiki experience to be confident that Reiki practice is effective, please get professional mentoring, for your sake and the public's.