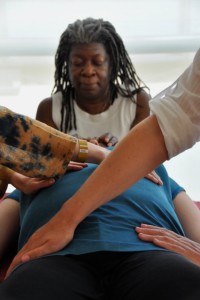 Do you wonder why some people hop aboard when you speak about Reiki healing, while others vacate the premises?
Try listening to yourself.
What do you say?
Go to a blank screen and write your usual Reiki spiel, whatever you say when someone asks, "What is Reiki?"
Speak it aloud and jot down notes — this is not a writing assignment (yet). Don't try to make it perfect, just get a snapshot of what you usually say. (Three minute pause.)
Now pick up the closest magazine or newspaper, turn to your favorite blog or online news source, or turn the TV on to a talk show or the news.
How does your language compare to the language used in mainstream media? How many words or phrases are you using (universal life force energy, perhaps?) that are only found in obscure (by mainstream standards) Reiki documents and websites?
Reiki jargon-free zone
Words and phrases that are only used among people brought together by their shared interest in a particular topic are collectively called jargon.
Jargon is a shorthand that everyone in the club can decipher. Insiders know the meaning of these words and phrases (or do they? — do you really know what universal life force energy means? But that's another conversation.)
But the very same jargon that is comfortable among people with a shared passion makes other people feel like outsiders. It's a classic turnoff that makes listeners literally change channels.
Learn from your doctor
Think about how your doctor talks to you. What part communicates and what part doesn't? And remember that you are very motivated to understand what your doctor is saying, because you are impressed by her credentials and you believe she has information that is important for you to know.
When people ask you about Reiki, you probably don't have the credibility of a physician, and if you're not mindful of your listener, your word choice can quickly dissolve any credibility you do have.
If you want to pique people's interest in Reiki, try speaking their language instead of expecting them to learn yours. Most people won't bother.
The Communicating Reiki category includes many other articles to help you reach more people. Please give the suggestions a try. If you make any changes to your Reiki talk, please leave a comment sharing your results. You might be delighted by the difference a little tweak makes.
Want to build your credibility on your own schedule, from the comfort of your home? The Mainstreaming Reiki webinar series was created with you in mind. Topics include:
Back to Basics
Professional Readiness
How to Explain Reiki
Where's the Proof?
What Is Spirituality?
Is Reiki Safe?
Learn more about the Mainstreaming Reiki webinar recordings here.
Want to stay in touch? Join the email list here!