Guestblogger Paul Selk and I have corresponded over the past year and I've appreciated his informed perspective on Japanese language, culture and history. Paul supported Colin Powell's recent guest blogs on the translation of the Reiki kanji, and here he offers more perspective on how much is lost when we translate Asian culture and language into American English. —
Is Reiki practice spooky?
Having read several times about the issue of using the original kanji in Japan — that they don't even use the simplified ka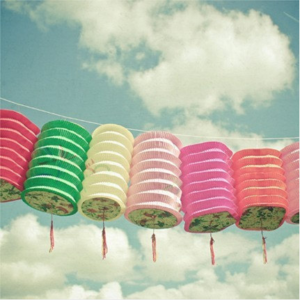 nji to write Reiki, due to rei being spooky — I wanted to find out how the Chinese felt about the old hanzi (Chinese equivalent of kanji), to see if the same spooky feeling was there.
I sought the help of some Chinese friends, immigrants who know English pretty well, but still have some trouble with it. Tony is in his 30s and Wei is in her 50s.
I thought it would be an interesting experiment, since Chinese people have the same psycholinguistic processing as Japanese people and for the most part use the same pictograms. Neither of my friends know anything about Reiki practice, so that wouldn't influence their responses.
When I showed them the old and new hanzi for ling (rei), they nodded and said, "Oh, ling." I asked, "These two hanzi mean the same thing, but do you feel anything different with them?"
Kanji that are translated the same, actually have different meanings
Tony looked at the paper and said, "They translate same, but not mean same."
I questioned him to make sure I understood this point correctly, and he was quite clear that although the old and new hanzi are translated into English the same, the old and new hanzi have different meanings to Chinese people.
He pointed to the new hanzi and said, "This is for smart people." Wei said the other hanzi is "for old people."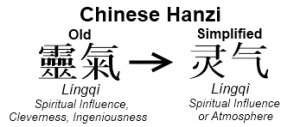 In order to explain (for lack of words in English), Wei described the types of people who still use the old hanzi by acting them out. She rolled her eyes up, eyelids fluttering, held her hands out like a zombie and started talking about spirits coming and telling her what to do, walking around the restaurant like Frankenstein. It was very humorous.

Wei got serious when she mentioned the palm reader, and said, "She look at your finger, and she tell you, 'you have lucky day,' or she look at your finger and say to you, 'you going to be sick.' Then she say, 'that will be 50 dollar,' but you no get nothing from her. You save your money!" Wei said that the old people who use that hanzi talk about spirits.
By this time I was laughing, but I stopped when Tony said the old hanzi for ling was "bad." Tony explained that the old hanzi has this negative connotation because it is connected to people who believe in ghosts.
What it came down to is that with the old hanzi there is a feeling of superstition. By "smart people," they meant people who are rational, who don't believe in superstitions.
I did mention practicing Reiki to my Japanese neighbor once. She looked at me cautiously and seemed to move back a little, so I haven't mentioned it to her again.
Do you speak Japanese? If so, please leave a comment, especially if you are a native speaker.
Chinese Lanterns print by Cassia Beck.
____________________
Please join my email list to receive credible Reiki information and perspective!