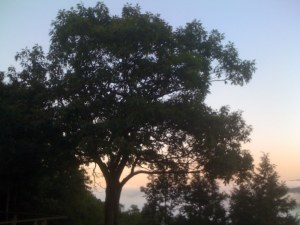 I rounded the corner, colliding with a woman who had come for Reiki healing a couple of years ago. She looked radiant and ageless.
We laughed and hugged, sputtering apologies and greetings. Her ebullience and joy were infectious. Nothing about her presence belied the frenzy with which she was packing up her apartment to swap Manhattan's breathtaking skyline and bright lights for acres of quiet unspoiled forest, diving into a new life with the man she mentioned at our first session.
They'd had just a handful of dates at that point, but she was cautiously sensing this might break a string of heartaches.
She moved easily from Reiki treatment to a seat in my next First degree Reiki class. A savvy New York shopper, she quickly recognized daily Reiki self-practice as a sensible investment in her health and well-being.
This time, as her relationship became more day-to-day, it also deepened. Respect and love grew hand-in-hand. She reorganized her business to free her geographically.
The secret method for inviting happiness
"I can't believe how wonderful my life is," she said. "Every morning I wake up next to the man I love, surrounded by the beauty of nature that feeds me so deeply. I'm actually living the life I dreamed of."
"Do you think this would have happened without your daily Reiki self-treatment?" I asked.
She looked startled, as if considering this connection for the first time.
Reflecting a moment, she shook her head. "No."
"Can you let the life of your dreams be good enough?" I asked.
Another startled look. I knew I was being cheeky but I was willing to push a little to offer a parting gift.
"Yes, I can," she said with conviction, "as long as I keep practicing Reiki."
What unexpected happiness has Reiki practice brought to your life?
_______________
Want to stay connected? Sign up for the email list here!