I'm still bubbling with gratitude that Leslie Kaminoff called to invite me to the Breathing Project for a presentation by Philip Goldberg, author of American Veda.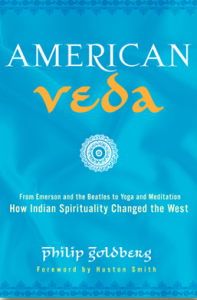 Phil led us on a delightful sprint (for me down Memory Lane), visiting teachers and books — such as Gospel of Sri Ramakrishna and Autobiography of a Yogi — that had illumined my spiritual yearning when I was just about the age of the rest of the audience.
Two days later, Phil and I traded stories over Eggs Benedict at San Ambroeus in the West Village. By then I'd read enough of American Veda to admire his journalistic perspective. Spirituality and journalism are not an easy mix, and it takes spiritual maturity to give a balanced overview.
That the book is such a comfortable read — both instructive and fun — is a testament to both the writer's skill and to the truth of what he documents: the extent to which American culture has been affected by Indian spirituality, starting in the 1800s.
Spirituality, science and methodology
American Veda turns again and again to the theme of spirituality and science, a theme of particular interest to Reiki practitioners, yoga enthusiasts, and spiritual seekers who are also critical thinkers. Whereas spirituality and journalism are antithetical, spirituality and science definitely are not.
The Indian spiritual teachers who found a large following in the United States — Swami Vivekananda, Paramanhansa Yogananda, Maharishi Mahesh Yogi, etc. — all reached out to scientists (as does His Holiness the Dalai Lama, originally from Tibet and currently in residence in exile in Dharamasala, India).
Their message is clear: spirituality and science are compatible. (Religion is another matter entirely. Its affinity for science depends on religious dogma and how that dogma is interpreted by a particular sect.)
The Transcendental Meditation (TM) movement set out to quickly make meditation a household word, and succeeded. American Veda outlines and documents the process. This sentence from page 163 is particularly instructive:
He [Maharishi] trained his representatives to make logical presentations in language suitable for their audiences, and he equipped them with a methodical procedure for imparting meditation instructions.
Speaking to people in language relevant to them is Communication 101.
It's not just a matter of eschewing jargon. Relevant language makes connections that have immediate meaning to the listener.
For example, people today often live less-than-joyful, spiritually isolated, stressful lives. Thanks to TM, most of us know that meditation is a simple, non-dogmatic practice to connect more deeply to ourselves and counter the daily onslaught of stress. People are ripe to know that Reiki is another option, and a practice that many find even easier than meditation.
Practice, not just preaching
The passage above continues, noting that methodical instructions ensured that meditation "would be practiced, not just preached."
Using a method to teach meditation is not unlike imparting a simple protocol that beginning Reiki students can take home and practice with confidence, and practice for life.
It's true that the Maharishi had celebrities like the Beatles, Mia Farrow, and popular talk show host Merv Griffin to catch the public's attention.
It's also true that, thanks to TM, when Reiki practice is presented in a straightforward manner, it is not as far from today's culture as meditation was when TM came to the US.
And ironically, given the current celebrity obsession and the glut of media that feeds it, what celebrities do today likely has less impact on mass awareness than it did 40 years ago..
We don't need celebrities to walk the path mapped out by those who have succeeded before us. And the more of us who walk and communicate that path, the more Reiki practice reaches the mainstream public.
_______________________
The Mainstreaming Reiki webinar recordings help refine your communication of various aspects of Reiki practice. You can download them and listen at your convenience.