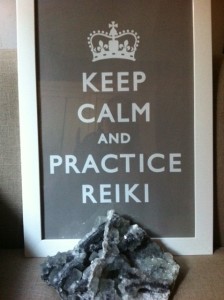 As the students in a recent First degree class introduced themselves, I learned that seven of the 13 students were already practicing First or Second degree Reiki. While it's not unusual to have even a Reiki master in my First degree classes, I'd never had more than half the class taking First degree for a second time. And most of them traveled from out of state to join us.
Even more interesting, all seven were practicing daily self-treatment and loving their practice. Why had they come, I wondered. The response was unanimous: they lacked the clarity they wanted; they were confused.
After the class, one of the students told me the difference our class had made to her. She said simply, "I came here confused and I am no longer confused. Thank you." I asked Joan to elaborate, and she let me share her thoughts with you. —
The welcome email I received when I registered for your First degree class suggested I not do additional reading before class, as reading presented an opportunity for confusion.
I had already taken a First degree class elsewhere. That class included talk of sweeping auras, pendulums, balancing chakras and personal messages from spirit guides. With all the extras, I left the class confused about Reiki and with many unanswered questions.
My confusion soon spread to others. When people asked me about Reiki, my attempts to explain were met with confused looks or jokes.
I love my restorative yoga teacher and she agreed to teach me Second degree (distant) Reiki practice. Now I understand that what I needed at that point was to practice more rather than learn more techniques. I clearly wasn't ready, and became even more confused.
Meanwhile my brother had done a lot of research and has been practicing Reiki for a year. He became my mentor,  sending me your book REIKI: A Comprehensive Guide, and inviting me to follow your Reiki, Medicine and Self-care Facebook page. I got on your mailing list and found your class.
I am confused no more.
Your class allowed me to be comfortable as a beginner. It had none of the add-ons I had found so confusing, just simple practice and lots of it.
Focusing on balance and practice feels like the heart of Reiki. As you suggest, experiencing a period of self-practice seems to be the best way to get the personal clarification and understand the role of Reiki in my life.
Later, I may want to learn more adjunctive practices, but now I understand it is important to build a foundation through daily self-practice.
We have become used to taking an aspirin and getting immediate results. I am learning self growth takes time and patience, and that understanding alone is a lot of growth.
Are you confused about your Reiki practice? Do you have a specific question? Please ask it in a comment below.
_____________________