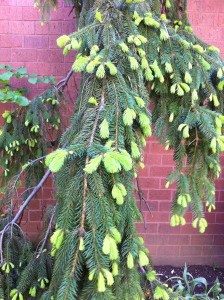 Sometimes nature makes it easy to see new growth, announcing it with bright color.
With people, healing and new growth may not be so visible.
We have to be steady and mindful.
Steady enough to practice daily self-Reiki. Mindful enough to notice spaciousness as it opens within us.
In spaciousness lies the possibility of choice where before there was only reaction. And we know where reaction takes us…
The next time you feel cramped, reach for your Reiki self-practice. As your awareness becomes spacious, bring the Reiki Precepts to mind.
Today only,
Do not worry,
Do not anger.
With thankfulness,
Work diligently.
Be kind to others.
Engaging the Precepts invites new understanding. Reflecting on them clarifies whether to take action in this moment, or refrain from acting.
With steady, mindful practice, we grow true happiness.
What new growth and happiness has your Reiki practice brought you? Please click here to share in a comment.
___________________
RELATED READING
True Happiness
A Discipline for Happiness
21 Days of Free Happiness Support
Let's stay in touch! Please sign up for my email list.