Guestblogger Carol Ryan lives in Massachusetts and began practicing Reiki in July 2010.
Reiki Healing for Grief, and Life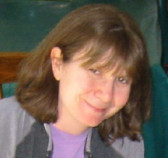 When our father died in 2010, I focused more on my brother's grief than on my own.
Michael is smart and childlike, with developmental disabilities and autism. Close family ties helped him through Mom's passing in 2003. But now, both people who'd been the center of his world were gone, and my attempt to fill that space in his life was consuming mine.
Of course my father had also died, but I'd deal with that later.
I mostly buried the emotion. I was busy and Michael needed me. In truth, he needed me far less than what my skewed sense of responsibility made me believe.
Meanwhile, I'd been thinking of learning to practice Reiki. I imagined helping friends and family, volunteering in hospitals, maybe helping myself a bit – but only when I had time and after everyone else was taken care of.
Once I actually attended a First degree Reiki class, self-care unexpectedly entered my life. Part of the class commitment was to practice a full session of hands-on Reiki self-treatment for 21 days, in order to form an essential habit that would continue for life.
I felt immediately more relaxed when practicing self-treatment each night and morning, and started sleeping better. I cried uncontrollably whenever I was alone, and realized my Reiki practice was helping me grieve.
Daily yoga and meditation sessions often turned into lying-on-my-mat-pounding-my-fists-into-the-floor sessions. Journaling also helped release the grief I'd been blocking. I felt sure my daily Reiki practice was supporting this process, and however painful, I knew that grief is something to go through, not around. I was grateful for progress, and eager to feel better.
Two weeks into my practicing Reiki, my self-treatment led to a short nap.
I woke up as abruptly as if someone had shaken me. For the first time since Dad's passing, I felt great. Not just okay, but laugh-out-loud-for-no-reason great. This wasn't the end of the grieving, of course, but it was a turning point that reminded me how I'd once felt, and would feel again.
With continued Reiki self-treatment, I was better able to offer Michael the love, attention, and reassurance he needed.
Several months later, my sister and I began a journey to move our brother from his group home back to our childhood home, with the care that he needs. That's another story, one in which I have felt hugely supported by my continuing Reiki self-treatment, a gift for which I'll always be grateful.
___________
Let's stay in touch! Please click to signup for my email list.