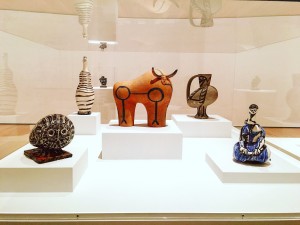 Sipping tea after a maybe-not-final visit to Picasso Sculptures at the Museum of Modern Art, a friend shared the dots she's been connecting about her Reiki self-practice, and how long her list of Reiki goodies has grown.
She told me how difficult staying with daily practice had been in the beginning, that it took time before she felt much during self-practice.
At first, it was the subtle improvements she noticed between practice sessions that kept her motivated. Her business has long stretches between big wins. Staying optimistic through a dry spell helps her create opportunities instead of panicking.
Her understanding of practice has evolved gradually in the five years since she learned First degree Reiki. So has her relationship with her mind, which she says is now steadier and sharper than ever (it always seemed sharp to me!).
As her appreciation of practice deepened, she let go of an unnecessary intensity she had brought to practice, and finally, her self-practice became enjoyable.
Her most recent goodie? The realization that her understanding, her state of mind, will keep evolving as long as she keeps practicing, that there is no end to the goodies practice brings.
Her speech was measured and thoughtful, and her joy of discovery radiated gave her a beguiling, childlike freshness.
I listened and realized, that's what people really want to know — and see — when they ask friends about Reiki: how Reiki practice enriches their lives.
Who doesn't want the glow she has?
Sharing your Reiki goodies
What do you share when asked about Reiki?
Do you describe how your practice helps you, or do you launch into an "explanation" that may not make any sense to the person asking…
Some people don't share how Reiki practice helps them because they've never thought about it.
Think about it now. How does your Reiki self-practice help you? What is the first thing that comes to mind?
Please share it in a comment below. And try sharing it next time a friend asks you about Reiki practice.