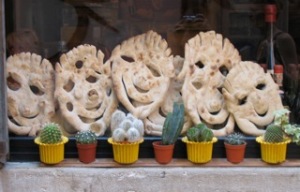 Ever notice that when we feel bad, no matter how sure we are that we want to feel better, what we really want to do in that moment are things that would most assuredly make us feel worse, if not immediately, then not too soon after?
It's the Snowball Effect. The mind has momentum to keep making choices in the direction in which we are already headed.
Enter Chinese wisdom. A Chinese folk saying reminds us that if we don't change course, we will end up where we are heading.
Changing direction
It's clear that when we feel badly in ourselves, if we want to heal, we need to choose a different direction.
Pivot in place. About face. Resist the instinct-of-the-moment. Do precisely what you do not in that moment want to do: Practice.
Practice whatever practice you practice. Watch your breath. Place your Reiki hands. Repeat your mantra. Roll out the yoga mat (and use it). Take an action that brings you back to yourself.
A Taoist proverb advises: When you have a disease, do not try to cure. Find your center and you will be healed.
First practice
Practice. Then be bad if you want to.
But of course then you won't want to be bad. Once you feel good, momentum starts working for you. You want to do good things to protect that good feeling, that I'm-having-a-good-time-being-myself-just-the-way-I-am feeling.
Even when when no one else is looking.
And even when they are.
Please tell us about a time when inserting even a brief practice — meditation, Reiki, yoga, mindfulness, your choice — turned your state around and headed you back in the direction of health and happiness. It could be something as simple as placing a Reiki hand on your heart before you eat, or before you hit "send."
________________
Let's stay in touch! Please signup for my mailing list.