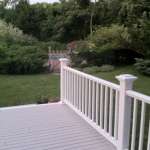 This is the view from the back porch. I'm spending an idyllic 10 days close to much that nourishes me — hydrangeas, fresh food, outdoor yoga, and the ocean.
Each day, my nervous system tamps down a notch.
Still, I feel vaguely unsettled. Happily away from the usual, and wrapped in vacation chaos.
On holiday, the only routine I have is my Reiki practice.
Each morning, as sleep rolls away and I stir into wakefulness, my hands find their place, and practice begins. No questions engage my mind; sleep unfolds seamlessly into practice.
No matter where I wake up, or when, I know it's time to practice Reiki, and I know how.
Routine settles the mind. Left on its own, the mind easily projects into future worry or ruminates on past anger. A Reiki routine shepherds the mind to the present (Today only), helping it feel at home no matter where the body is.
When has your Reiki practice brought you home to yourself? Please scroll down to share your experience in the comment section.
________________
Need help with your self-practice? Click here.
The TALKING REIKI: Communication series is designed to improve your effectiveness and comfort when talking about Reiki, and you can access the recordings online anytime you want, as many times as you want. Click here to  learn more.
Let's stay in touch. It's easy if you  sign up for the email list.