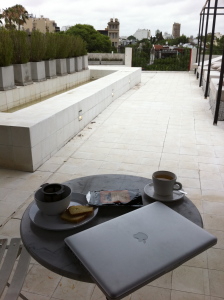 Sitting on a rooftop terrace, I drink in the Buenos Aires skyline with my green tea. My last day in Argentina is overcast. Low light enriches the city's colors, revealing nuances that disappear whenever the sun burns through with its bright light and harsh contrasts.
One day and a red-eye later, legs up on my sofa instead of my carry-on, suitcases (mostly) unpacked, my mind in that travel space of no-time, the New York morning is also gray, the earthy colors in view enriched by subdued winter light.
The past month has been filled with sunshine as warm and unrelenting as Argentine passion, so at first it seems curious that my visit ends in tempered gray. Curious, yes, and also a gift.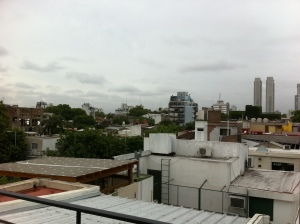 Gray invites contemplation, so useful in times of transition, a mental siesta to help my heart digest the richness of my Argentine feast.
I'm drawn to the stimulation of bright sun, but life is not black and white. Sitting in the shadows, Reiki hands in place, it dawns on me that passion is useful when it inspires us to practice regularly and reach out to each other, and not so useful when it divides us or leads us away from on-going self-inquiry and into blind assumptions.
Related Reading:
When Reiki Diversity Becomes Reiki Adversity
Reiki Precepts
Today Only