Reiki master Caitriona Doyle attended my Medical Reiki Intensive in Dublin. When she mentioned offering Reiki healing in a prison, I begged her to share her story.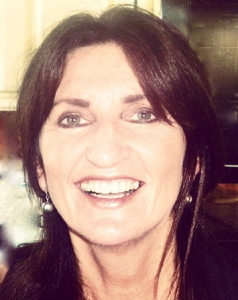 Reiki Healing in Prison
by Caitriona Doyle
I was invited to offer Reiki healing to inmates in a local Dublin prison. They were high category prisoners: rape, assault, murder. I accepted because I was intrigued, but I was equally terrified.
Twenty prisoners gathered in a small room, guards outside the closed door. I started by chatting a bit with the lads about Reiki healing.
Then I offered chair treatment to each prisoner, placing my hands at the crown, brow, throat and heart — what seemed to me the "safest" placements, given the men I was treating. I stayed with each inmate for up to ten minutes.
There was a mix of mental states in the room. Some men were quite agitated, one young man sweated profusely, while another seemed blank. I started out nervously, but as I moved from man to man, I felt myself become steadier, more solid, more secure in my environment.
Although I was aware of something else developing in the room, I was absorbed in offering Reiki treatment and didn't focus on it. As I approached the final prisoner, I looked around the room and realised what I had been feeling. It was their respect, respect for what was happening in the room.
The men had sat in silence for two hours as I went from one to the other practicing Reiki. I was amazed by the calm and peace that Reiki healing brought to the room.
What surprised me even more was while practising Reiki on the men, in the time I spent with each one of them, all I felt was their goodness. Without judging their crimes, practicing Reiki let me feel their core, their invisible part, which felt like goodness to me. I wasn't prepared for that, and it was lovely.
I thanked them for their respect and shared what I had experienced.  They stood up and clapped. Some formed a queue to chat with me.
One of the lads said he had learned First degree Reiki and promised he would start regular self-practise that evening. Another prisoner had read a lot about Reiki practice, and loved everything to do with angels.
Each man had a story. Practicing Reiki with them let me see that the angry person they presented to the world was not all that they were.
To be honest, that realization disconcerted me.
It is a human reaction to judge harshly someone who injures or murders another person, and I had felt such judgment. And yet, I cannot deny what I experienced that day.
After the event, the prison officers said they were shocked and amused to look through the tiny glass window in the heavily bolted door and see such hardcore criminals sitting in silence and stillness. The officers said they could feel the peace of the room.
I visited the prison as part of a Holistic Week where prisoners were invited to experience various therapies each day. The men said they enjoyed their Reiki treatment the most because they felt soothed and peaceful for a few days afterwards.
________________
Caitriona's experience illustrates the power of Reiki as a spiritual practice. Yet all too often, practitioners avoid speaking about spirituality lest they seem too "out-there." It is possible to speak about spirituality without being New Agey. After all, spiritual practices existed long before the New Age Movement.
You will understand spirituality and be able to speak about it more effectively after listening to the audio recording of the webinar Mainstreaming Reiki: What Is Spirituality? 
Stay connected! Sign up for the emailing list.