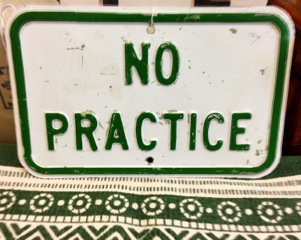 A young colleague wrote, "How do you handle another Reiki Master Teacher spreading negativity about you because he/she doesn't agree with the way you practice?"
Honestly, I don't "handle" it.
It's not that it never comes up. Some Reiki practitioners feel personally attacked by any discussion of credibility, ethics or voluntary standards, and they react like bullies with (very) personal attacks.
Bad-mouths and bullies don't seem to know the difference between discussing perspectives and attacking people.
Choosing to heal and grow
Personal attacks don't particularly bother me because I take responsibility for my emotional health — if something hits a nerve, I explore the nerve and heal it.
But if someone attacks me or someone else who has made a comment, I need to consider the impact on the larger conversation. Nastiness uncorked might be a sign that I'm stimulating dialogue, but I'm aiming for constructive dialogue, not controversy.
We can only have the important, difficult conversations that make us stronger practitioners and bring the community together when people feel safe to express their perspectives, and when they express their perspective with respect — respect for themselves, and for others.
We can argue perspectives and question the logic  — and in so doing, clarify our own understanding — without attacking the people expressing those perspectives.
We cannot control other people's actions, but we can choose to heal and grow.
And when we make the effort to heal and grow repeatedly, it becomes a habit, a practice even.
Reaping the benefits of practice
I suggested my young colleague approach the situation as an opportunity to deepen her understanding and clarify her own perspective.
I encouraged her to take an honest look at how she practices and the criticisms leveled at her by her colleague, looking to see how her approach leaves her vulnerable to those criticisms.
The effort to clarify our thinking requires us to be patient with our emotions. Nothing muddles thinking like unresolved, unrecognized emotion.
As we heal emotionally — from feeling marginalized, or blamed, or humiliated, or the fear of being seen, the list only seems endless — we become clearer, more aligned in ourselves and in our practice, and we become living examples of the benefits of practice.
We might come to realize that we actually do what we thought we were being so unfairly accused of, but we see it differently. It helps to see how our words and actions can look to others.
The effort to clarify
The effort to clarify our approach — to ourselves — is an effort we all benefit from. That effort enables us to grow as people, as Reiki practitioners, and as members of a global community.
Periodically, I offer free webinar discussions to help you find clarity by addressing your questions and concerns. The discussion is open to all Reiki practitioners of any lineage, both home practitioners and professionals.
If that is of interest to you, sign up for my email list here to make sure you are informed of future events.