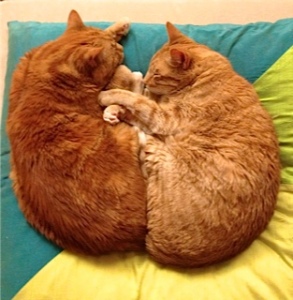 "I receive Reiki healing every week," a new acquaintance said when I was introduced as a Reiki master. "At least I did until my Reiki practitioner raised her fee from $40 to $75. At $40 I didn't mind the cats jumping up on the table."
"Did you speak to her about it?" I asked.
"Yes, I did, and she said not to worry about the cats, that they love Reiki."
We laughed.
Of course that wasn't the point.
"Did you ask if the cats were paying her fee?" I asked, cattily.
Reiki professional practice
Guessing from her fees and comical obtuseness about her client's preferences, the Reiki practitioner in this story may be just starting out as a Reiki healing professional (she may also have been recently trained in Reiki practice, but that's another discussion).
The anecdote raises three questions regarding Reiki professional practice that merit discussion. I hope you will weigh in on any or all of them, either as a Reiki practitioner or a Reiki client, or both:
1. As valuable and lovable as our animal friends are, do animals belong in a Reiki treatment room?
2. What accommodations does a Reiki client deserve?
3. Do you have strategies for raising fees for Reiki treatment without alienating clients (unless of course that's your purpose)? What's worked and what hasn't worked?
Thank you for voicing your perspective respectfully. If you received this as an email, please click here to leave your comment.
____________________
Let's stay in touch — please signup here.