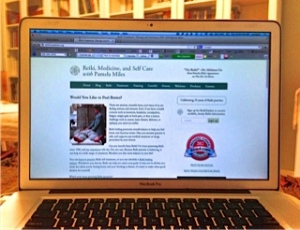 Medicine is changing at an unprecedented rate. As a Reiki practitioner, you can help bring Reiki healing into health care. Here's how.
Reiki healing is part of what conventional medicine calls complementary and alternative medicine (CAM). A recent medical article* on CAM for weight loss said, "The current roles of physicians and other healthcare providers have expanded to now include skills for helping patients access, critically appraise, and review online evidence, with the goal of identifying best sources for decision-making about interventions."
This is good news. Reiki healing is one of the interventions patients are looking at (we know Reiki healing is a practice rather than an intervention, but that distinction is rarely made in medicine, where treatment is more common than self-care).
The need for doctors to vet healthcare information is so dire that the article suggests having computers in doctors' waiting rooms with recommended sites bookmarked.
Doctors and nurse practitioners can be powerful advocates for Reiki practice. But they need us to give them what they need to know, and provide that information in a credible format.
Would your Reiki website get bookmarked by a doctor as a source of credible information for her patients? (Did you note the phrase "critically appraise" in the quote above?)
If your website won't pass critical appraisal, maybe it's time for an overhaul. I've been talking to doctors about Reiki practice for 20 years with good results. Here are my top suggestions. (Don't have a website? I know creating your first professional website is a daunting task. That's why I created Your Reiki Website Webinar).
 5 Reiki Website Must-Haves
YOUR HEADSHOT
Practitioners often put a nature picture or a soothing visual on their homepage, but visitors would rather see what you look like. A photo of you is reassuring. The public needs to see that Reiki practitioners don't have horns. (And if you do, comb your hair over them.)**
LOCATION LOCATION LOCATION
Where are you? You may have a very good reason for not posting a street address online but you can name a town or a neighborhood, details to anchor the information in the real world. Put it in the footer and maybe the header.
PHONE AND EMAIL CONTACT
Give a phone number, even if it's a service you never answer directly. As with the location details, it makes you more real and present. Put the phone number in the footer with your location. Your contact form should be the last option on your navigation. Make it easy for visitors to find.
REIKI TREATMENT DESCRIPTION
Prominently feature a word picture with details such as fully clothed, light touch, lying on a treatment table or sitting supported in a comfortable chair. And if you have one, include a picture of yourself offering Reiki treatment in an appealing, uncluttered room devoid of New Age artifacts such as chakra diagrams.
BELIEVABLE TESTIMONIALS
Eliminate anything over-the-top. Include a few short, simple statements (not claims) from people like your neighbors who have been helped with everyday problems. "I'm sleeping so much better since I started Reiki treatment" or "I have fewer migraines and the ones I get are less intense" communicates better than "My life has totally changed since practicing Reiki." Even though that may be true, not everyone wants a total life makeover. Ask permission to use your client's full name. Include a headshot if possible. People become more comfortable when they see people like them have benefited from Reiki healing.
3 Reiki Website No-Nos
THE REIKI TRANSLATION
The translation includes concepts that are completely foreign to non-Asians. It can be off-putting, and does nothing to make Reiki healing relevant to the reader. Think of it this way — do you know or care what electricity is, or do you just want to turn on the light?
JARGON
Reiki practitioners are often blind to how much jargon or shorthand language we use. Even the word "Reiki" can be thrown around in confusing ways. Examine every time the word Reiki appears and ask yourself if it would be clearer with another word after it, such as Reiki practice or Reiki treatment. Simple straightforward language creates confidence. Stick to the basics of what your reader wants to know. Don't try to say what cannot be said. You'll look weird or foolish or both. And so will Reiki practice.
CLAIMS
If you stick with the perspective that Reiki practice is balancing to the individual and thus supports self-healing (which has some scientific support), you'll steer clear of claims. Be respectful of conventional medicine and don't say Reiki cures specific conditions or symptoms. Soften your language, choosing phrases such as "may support" or "can help." Avoid saying Reiki does this Reiki does that (and check the notes under Jargon).
Feel free to include links to any content on my blog or website that you find supportive, such as How Does Reiki Help?, Yale Study Shows Reiki Treatment Helps Heart Attack Patients, or Reiki Medical Papers. It is important to give links to the original content on my site rather than duplicating the content on your site. Posting other people's original content is a major no-no for so many reasons.
If you teach, posting a link to Reiki Classes: What's Right for You? provides an implicit endorsement from me — if, of course, you agree with the standards described. If your standards are not aligned with those stated in the article, skip it as it will work against you.
Reiki blessings,
Pamela
*CAM and Weight Loss: Does It Work? (free subscription is required to access Medscape articles.)
**BONUS Photo newsflash: You don't need a professional headshot for your website. Hand your iPhone to someone you are very comfortable with and go outside in the soft morning or late day light, or stand by a window with abundant natural light. Take more shots than you think you could possibly need. Feeling adventurous? Try the filters on Instagram. You'll be amazed how easy it is to make an image that you — and others — can relate to. Don't believe me? Behold this Instagram photo from the Sunday New York Times.
__________________
Please signup for my email list and stay connected!
PLEASE HELP ME HELP OTHERS. If you find this useful, pass it on to a friend.