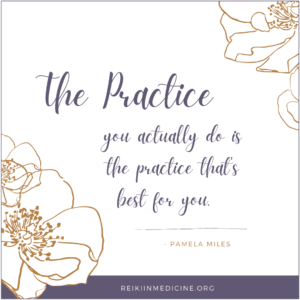 Having seen the benefits of Reiki practice in your life, you can't help feeling that your Reiki is the best Reiki. That's as natural as knowing your babies (or pets) are the most adorable beings to grace the planet.
In a world with so many different styles of Reiki, you are indeed lucky to have found the best one. Kudos to you!
On the other hand (pun intended)
Deciding what's best for you is a very important decision, one worth looking at it from another direction.
What if what's best for you isn't a matter of the details of your practice at all? Rather, the best-ness of your practice comes not from the practice itself but from your commitment to practice.
Doesn't it make sense that the best Reiki practice is simply the one that you actually practice? Like everyone else, you are an individual with your own way of going about life. You get to choose your unique approach to self care, spiritual development, and healing.
What if the practice you've chosen is the best simply because it's the one you've committed to practice? After all, the point of having a practice to actually practice it, especially on yourself (every day is best!).
My Reiki practice is the best Reiki practice for me.
That's a statement we might agree on, regardless our Reiki practice style.
Let's take it farther.
My Reiki practice is the best Reiki practice for me if it:
makes me the best version of myself
opens my heart to others (including Reiki practitioners with different practice styles)
refines my discernment to recognize what is important (daily self-practice) from what is not (specific hand placements).
Growth such as that doesn't happen overnight, but with consistent self practice, growth will happen.
That's because your Reiki practice is so much more than health care; it's a spiritual practice that transforms your understanding of yourself, your world, and life itself.
How has your Reiki practice changed you?
What evidence have you seen of these three important changes in your life: becoming the best version of yourself, seeing your heart open to others, and recognizing what's really important in life and in any situation?
Please share so that your story can inspire others. And if you are practicing but not seeing benefits, this is a safe place to ask for support.
If your Reiki class didn't include self practice, here's a protocol you can easily follow. Not yet Reiki-trained? You can learn Reiki self practice in a series of conveniently times small group, live, interactive videoconferences.
_________________
MAINSTREAMING REIKI: Is Reiki Practice Safe? downloadable audio recordings
Part 1: Is the Client Safe?
Part 2: Is the Practitioner Safe?
Let's stay in touch!  Please sign up for my email list so I can share credible Reiki practice information and perspective with you.