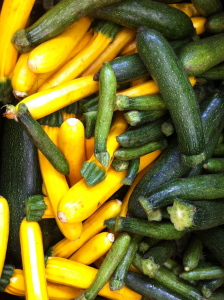 His voice caught my attention from behind.
A man was trying to enroll a greenmarket farmer in a program to teach the families of hospital patients how to purchase and cook more healthful food. Brilliant concept!
Everything he said sounded truly wonderful, but it was the striking disconnect between what he was saying and his in-your-face demeanor that set me thinking.
Reiki zealots
I wondered how many times Reiki practitioners present listeners with the same dichotomy.
Who wouldn't be interested in a low-cost, drug-free way to enhance well-being, strengthen health, and manage pain and anxiety?
But if the person "selling" the concept is enthusiastic to the point of seeming a bit aggressive — enthusiasm laced perhaps with a tinge of anger — the listener gets uncomfortable.
Whatever change you are creating —  improving your own health and well-being, or bringing Reiki practice to a mainstream public — it takes zeal to make it real. There will surely be times when you'll have nothing but your vision to sustain you.
And yet, if you are branded as a zealot, you won't go anywhere mainstream — at least not anywhere that you want to be.
Bridging the gap between enthusiasm and embodiment
We have a remedy to dissolve any disconnect between what we're saying and what we're modelling: daily hands-on Reiki self-treatment and contemplation of the Reiki Precepts.
Although most people notice improved well-being soon after starting daily Reiki self-treatment, give yourself time; great wines don't mellow overnight.
Have you caught yourself getting a bit too animated when you speak about Reiki? How do you bring yourself back to center?
RELATED READING:
Build Your Vision
______________
Let's stay in touch! Please sign up for my email list here.