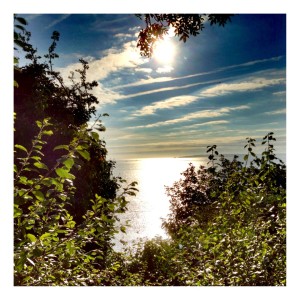 Reiki practitioners sometimes write to me wanting to share the faster practice they've discovered, claiming they get the same "results" with only five minutes of self practice.
Others say they were taught techniques to make their practice a "fast train" instead of a local.
Some masters say teaching is the "fast path," so they no longer bother with hands-on practice — not on themselves and not on others. (I continue to learn by practicing on myself and others, and wonder how those masters can teach something they no longer practice — but we'll leave that for another day.)
What's the rush?
What does fast mean in the context of practice? Are we competitive athletes practicing to run a race faster?
Or do we practice Reiki to balance the ambition that glorifies fast? Don't we practice on ourselves — and with others as we are able — to stay close to center, resilient and happy in everyday life, humble before the marvels of our simple practice?
Where is the fast Reiki train going, and what does fast mean for the future of Reiki practice?
That is an important question for our diverse community to contemplate. Please place your hand on your heart for a moment, and then scroll down to respectfully and concisely share your thoughts in the comments.
Do you have a question you'd like discussed in a free Ask Your Reiki Question webinar Wednesday, September 16? Click here to register. Can't be with us live? No worries, you'll be sent the recording link.
_______________
Would you like to receive occasional emails to support your Reiki practice? Please sign up here to receive unique free content not offered elsewhere.