Cassia Cogger was a Reiki newbie when life took a sad turn, giving her a chance to experience the sweet support of her Reiki practice in an unexpected setting. Here's her story.
On Choosing Love
by Cassia Cogger
Two months ago, I left Pamela Miles' First degree Reiki training feeling so fortunate, ready to apply the practice for self care, thrilled to have a daily practice to create balance in my system and my life. And a busy life it is, complete with husband, two kids, extended family near and away, and several businesses.
My daily Reiki self practice did not disappoint.
Reiki practice, a mother's companion
As I flew to Colorado for spring break last week, my three-year-old son was cranky. He'd gotten to bed late and was awakened early to get to the airport.
While his crankiness was understandable, few things are more stressful than being the mother of a noisy kid on a crowded plane. Almost reflexively, I settled one hand on him and one on myself, and felt a sweet calm wash over both of us.
I thought about how much my daily Reiki practice had helped me. Shortly after my class ended, we were displaced from our home for weather repairs. After bunking with relatives, we lived in hotels for eight weeks.
My Reiki practice kept me balanced, and my kids too. Many nights, my six-year-old daughter would ask me to "do the thing to her with my hands." Rushing from hotel to bus stop, from preschool to studio, I often felt fatigued. A midday mini-practice invigorated me. Throughout the unusual craziness of the past two months, my Reiki practice had been an invaluable support for my children and myself.
Counting my Reiki blessings, I did not imagine what was about to unfold, or how deeply my Reiki practice would support me through it.
Reiki healing for my grandmother, and me
The day before departing for Colorado, I learned my 89-year-old grandmother was in the hospital with pancreatitis. Not the first time, so there was some concern, but it was really very slight.
I arrived with my husband and children, had dinner with my grandfather, and headed to the hospital with my mom. Upon arriving, I chatted with my grandmother, gently resting my hands on the crown of her head and lightly on her chest, touching her with love and affection. I wasn't thinking about practicing Reiki until I felt my hands. And so, quite unintentionally, came my first opportunity to practice on someone else.
The week progressed. Instead of getting better, my grandmother got worse. Much worse.
Reiki healing at end of life
I spent a lot of time in my grandmother's room, chatting with her while she was responsive, continuing even when she was not, holding her hand, and often lightly resting my hands on her crown and heart, abdomen and hip bones, now deliberately practicing Reiki.
On Friday, one week after she was hospitalized, I rode in an ambulance with my grandmother to hospice. We were able to get her a quiet room with a gorgeous view, a bed free of rails, and a compassionate staff.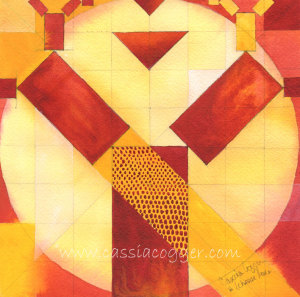 Having communicated with Pamela frequently in the past few days, I knew Reiki practice to be a precious end-of-life gift, offering peace and clarity, hopefully to mam-mam, definitely to myself.
I got my grandmother settled and learned how to operate the bed. I raised the bed for frontal Reiki practice. Even when I wasn't deliberately practicing, when I was just sitting by her side, my hands naturally drifted back to her, resting again on her crown or chest.
Saturday morning, in the hours still dark, Mam-mam transitioned. It was, and is, heartbreaking for us all.
Reiki practice and choosing love
On May 13, I had written a post on my blog celebrating my grandparents' 71st wedding anniversary. I had no idea it would be their last.
In that post, I announced an online exploration around sacred geometry, living with intention and how to stay present in the spaces in between. I also discussed how the heart, symbol of love, fills those spaces in the Pythagorean tree of life, how it just happens.
That same love filled the spaces as I sat with my grandmother last week as she lay dying. Even in the rawness of grief, my Reiki practice helped me to choose love, and fully express it. For that, I am so very grateful.
____________
Want to be part of an inclusive, thoughtful Reiki community? Please sign up for the email list.
Have a Reiki story to share? Read Tell Me a (Reiki Healing) Story and email me if you'd like to write.