An engaging, inspiring Reiki healing story can make the difference in someone's healing. Have you thought of sharing yours? Or does writing seem daunting.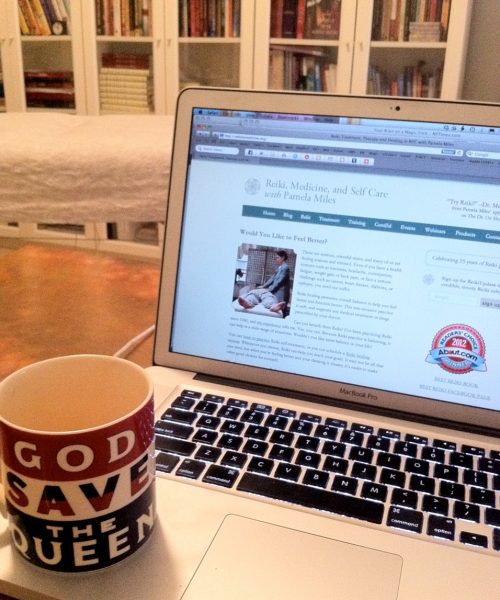 The legendary sportswriter Red Smith said, "Writing is easy. You just sit down at a typewriter and slit your wrists."
I know what he meant. There are times when the muse is out to lunch.
I know what he meant. There are times when the muse is out to lunch.
But there are also times when the story writes itself.
I bet you have a Reiki healing story like that, a Reiki story that is simple and inspiring, that would uplift Reiki practitioners and inform Reiki window-shoppers.
Your Reiki healing story
Nothing communicates like the story of people readers can see themselves in.
We need straightforward, un-fantastic Reiki stories online, stories people can relate to, in which those new to Reiki can glimpse the benefits Reiki practice might bring, stories that motivate students' daily self-treatment.
Stories that tell your experience without interpretation, metaphysics or editorializing. Stories that stand on their own.
Please share your Reiki healing story. If it's a few sentences, share it in the comment section. If you'd like it considered as a guest post, contact me here, paste it in the form, and it will arrive directly to my inbox.
Calling all Reiki healing story writers
Think of this as a Reiki writing contest, one that you win just by entering, in that you deepen your understanding as you contemplate and choose your words.
The story you want to share might be from your self-practice. Or it could be a treatment you received or gave to someone else.
Keep it simple.
Any stories received will be considered for publication as a guest post, but please don't sweat it. Write from your heart, trimming it down to just what is essential to the story.
If your story is chosen for publication and you're willing, I'll work with you on editing. But first lay down the Reiki bones. Or start by reading Reiki stories shared by other readers.
Ready, set, write!
_______________
WRITE REIKI is a two-week online program that will develop your free-writing skill and help you uncover your Reiki practice treasures. Reiki practitioners usually have a lot more to share than they realize until they start free-writing.
Please stay in touch! If you sign up for my email list we can do just that.