Good things come to those who wait.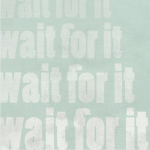 That was one of my mom's favorite aphorisms, offered frequently to her impatient, let's-get-going child — me.
Like Mark Twain, I was amazed how much smarter my parents became as I got older, and I've learned the value of sustained effort over time to improve skills and achieve goals…but honestly, waiting is still not one of my strong points.
In 1986, I took Second degree training a week after my First degree training. It doesn't seem to have hurt my practice. I was thrilled with Reiki from the beginning, and 27 years later, I am more passionate than ever.
Yet I encourage Reiki students to practice First degree, hands-on Reiki treatment for at least three months before learning the distant healing techniques taught in Second degree.
This may appear a bit hypocritical — do as I say, not as I did — but please consider the reasoning behind that suggestion.
When I learned to practice Reiki in 1986, I was already an avid meditator who had been studying yoga and meditation for 25 years. I was also a professional intuitive, meditation teacher and healer, specializing in what would come to be called mind-body medicine, helping people use their minds to improve their health and well-being.
I was very comfortable navigating subtle realities and lived with a sense of connection to all that is. I regularly saw the powerful impact of subtle practices. So although Reiki was an entirely new practice, the idea of healing without touching, as in Second degree Reiki practice, was not such a stretch.
I've been teaching since 1990 and I see that for most Reiki students, even First degree is a stretch. In the space of about ten hours, students go from having regular hands to having amazing hands, hands that at the very least bring a new level of comfort and relaxation, and for many, hands that pulsate and emanate soothing warmth. Wow! Reiki hands open a new reality of self-care to explore, and this gift takes some getting used to.
Even those First degree students who are already at ease with the wonder of their Reiki hands often look skeptical when hearing about Second degree practice.
But I know that as they practice daily Reiki self-treatment over a period of time, and live with the reality of connecting to Reiki source for sustenance, their understanding will become grounded and open to other possibilities, so that they can approach distant healing with great confidence.
And there is another reason I encourage waiting for Second degree.
First degree is easily learned; it's practically technique-less. Second degree requires not just learning techniques, but becoming fluent in them. It's unlikely that students who leave the class uncomfortable with the Second degree techniques will actually use them on their own. And often, the frustration affects their daily hands-on Reiki practice, and that too falls by the wayside.
Almost all the people I've met who took Reiki training but don't practice, took First and Second degree on a weekend, or — gulp — in one day. I think I serve my students better by giving them solid training in First degree — not just the four initiations, protocols, history, Precepts, but also ample time to practice and discuss their experience and questions in class — and leaving Second degree as a possibility for the future.
Related reading:
Earn Your Reiki Training
A Feel for Reiki Healing
Let's stay in touch! Lots of travel ahead. If you signup for my email list and give your state or country, I'll let you know when I'm coming your way.
Do you want to bring a credible Reiki practice to the mainstream public? Check out the Mainstreaming Reiki recorded series, or see if the live Communicating Reiki Mainstream is coming your way.