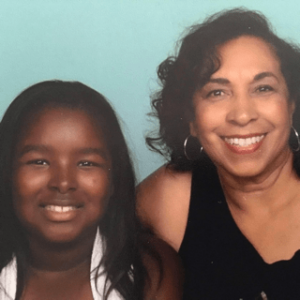 After Vera Saville left a moving comment on Black Lives Matter, we started corresponding. She generously gave permission for me to compile her emails and share her story and photos with you.—
This is Maxine, my only grandchild. She is the light of our lives. Her mom, my daughter, and her dad began Reiki classes shortly after I started.
Maxine practices Reiki with her parents and my other daughter Dena, who lives with me. I raised a son and two daughters as a single parent. Maxine is 12 and it is her future that concerns me.
We grow gardens in our homes and exchange veggies and fruit with neighbors. Maxine is the only child of color in her neighborhood in Long Beach, California.
She and her mother just had the talk about being black in America, a talk I wasn't privileged to have as a child.
Vera's life
I was born on a segregated army base in Arizona in 1944. There is not enough room here to hook together the dots of my life being born captive in dark skin.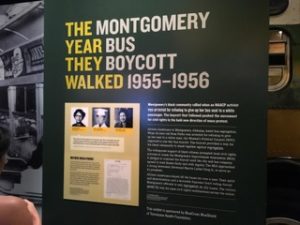 At 5, I started public school in Big Bear Lake California as the only black child in the school. I was pinched and called the "n" word. A word that I hadn't heard before. I surmised it was not a good word.
Children painted me white so I'd look like them. The teacher made them wash me but there were no explanations.
I'm the first college graduate in my family. My brother became a Secret Service Agent. Our motivation growing up was to get an education and life would be easier. We embraced our faith and didn't miss church.
Tommie Smith was my classmate at San Jose State University in the 1960s. I was so proud to see him hold up his fist at the '68 Olympics. On campus, I began to read and experience more about Civil Rights beyond a Jet or Ebony magazine. Dick Gregory and Donald Warden spoke often on campus about forming a Black Student Union with appropriate curriculum.
I taught school for the Los Angeles Unified School District for 42 years and have lived through 3 major uprisings. My first teaching position was in Watts in 1965 after The Watts Riot. Each has changed our city but not enough and still I have hope.
Reiki Practice
My spiritual life changed when I walked into the rooms of a 12-step meeting in 1983. In 1999, I met a friend at a meeting who introduced me to a therapist who practiced Reiki.
I took my first Reiki class in 2000 at the Mary Joseph Retreat Center in Rancho Palos Verdes, California, which is affiliated with the Catholic Archdiocese of Los Angeles and open to all faiths. I was the first person of color in these Reiki classes.
Each level of Reiki training changed my life. I assisted my teacher with initiations and Reiki Circles at the Center for years. My friends began to join us to study and practice Reiki. I completed the full Master training in 2003.
I've practiced self Reiki daily since 2000. Reiki Circles are held in my home monthly since 2009. I teach all levels of Reiki practice. I encourage participants to build a daily self practice.
My Reiki self practice helps me relax, breathe, stay in the moment, have clarity, and better appreciate things in my life. Throughout the day, I've often paused to practice self Reiki when I am in heavy traffic, waiting in a doctor office, observing horrific things happening around me, etc…
Pilgrimage to the South
Last year I took my first trip through the South, visiting the historic sites of racism and healing. I started at The Lorraine Motel where Dr. King was murdered. At the balcony, there is complete silence. People are very choked up.
In Birmingham, I visited the site where the four little girls lost their lives in the bombing of 16th Baptist Church. We prayed at the site where their little bodies were removed. Children took a lead in the Bus Boycotts. I talked with a man in the church who was a part of the march boycotting the bus. He shared that students simply left school to join the marches. When I see youths in the movement now, I think about the energy it takes. In Montgomery, there is the National Museum for Peace and Justice Commemorating the thousands of people lynched and murdered.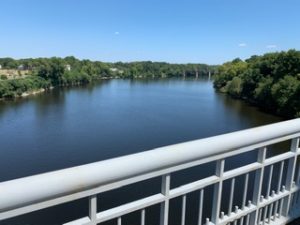 I walked over the Edmund Pettus Bridge in Selma, remembering the people that just wanted to vote and be respected as Americans. Each of the 9 places that I visited had a special sitting places to meditate because what I saw was indescribably horrific.
George Sweet was a man I met who prays at this bridge daily. He is 90 and was a foot soldier. He has a scar across his forehead where he was beaten. He thanks God for saving his life and he's forgiven the policeman that beat him.
Racism and Healing: Time to change
Change isn't easy but it is so worth it. It is the love and healing that I needed. The movement we are experiencing now is not too late and right on time. We can't stop making our voices and needs heard.
I Love MySelf Reiki global sessions have become a part of my past three months practice. I've invited our Reiki community in the Los Angeles area to join since we can't practice in Monthly Circles. I'm part of a Reiki community in The South Bay Area of Los Angeles that includes many ethnicities.
I'm retired and spend my time practicing Reiki with people in 12 step programs and older people that are in 4th stage cancer. Someone in our group has survived more than four years.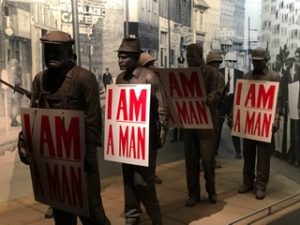 There is much needed action that our country will have to address for the reparation of what has happened to approximately 6 generations of enslaving people and the economic oppression of people. Reiki and other spiritual programs have helped me in my journey to better love myself and others.
For any reader wanting a deeper understanding of why black lives matter, I highly suggest you start by viewing, meditating and discussing with family and friends the documentary, "The 13th Amendment." It's available on YouTube and Netflix.