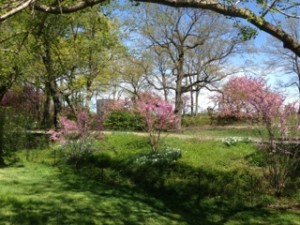 Even months later on the phone, it was apparent how deeply moved Wendy Strauss was by her experience offering Reiki treatment at the Sandy Hook Healing Project (SHHP).
When Wendy walked into the pop-up healing center on December 23, 2012, despite the horror of the recent school shootings in Newtown, she felt she was walking into "a calm healing presence." There was a Christmas tree and children were playing with an art therapist. The space was quiet and peaceful and permeated by an unexpected sense of joy.
Wendy learned about SHHP from its founder, Heather Gunn. Wendy and Heather had recently learned to practice Reiki together.
Since then, Wendy had practiced mostly on herself, family and friends. I met Wendy when she practiced with us at the the annual JCC Spa Day for Women with Cancer and a couple of JCC Reiki Clinics.
It was at the JCC events, Wendy said, that she learned skills of practicing with the public that were invaluable to her experience in Newtown, such as how to speak to clients, how to be nonjudgmental and respect their space, how to stay conscientious of their comfort, how to protect the client's experience and not engage in unnecessary conversation.
Profound healing in silence
Wendy sensed that the community was a family, and the practitioners could easily feel like intruders. She understood it was important to be very respectful and gentle.
At SHHP, the Reiki practitioners could be flexible about the length of each session. Wendy let the sessions time themselves, usually between 20 and 40 minutes.
Other than their names, no questions were asked of those who came for healing, and the treatments were generally given in silence. Sometimes clients spontaneously shared details of their Reiki experience afterward. Wendy was in awe of what she heard, but understood it was for her to simply witness and not comment.
One woman got on the table nearly overcome with grief. Offering this treatment was an especially profound experience for Wendy.
Afterwards, the client asked directly if Wendy had experienced anything. Wendy turned it back to her, saying the session was for the woman, not the practitioner. When Wendy added gently that she felt a lot of love in the room, the woman started crying. She had had a prior trauma that was reactivated by the shootings, and as can happen with trauma victims, she had been haunted by guilt, even though she had no control over what had happened. Wendy brought her to one of the grief counselors specifically trained in trauma support.
Reiki treatment for the children
The second weekend she was there, Wendy offered Reiki treatment to a number of children between the ages of 9 and 16. She knew they had all been touched by this tragedy in some way, and noticed they seemed quieter than the adults.
The children responded quickly to their Reiki treatment, becoming very relaxed, and offering Wendy warm hugs afterward.
A teen who had lost a friend found such comfort in her treatment that she returned the next day with members of her family. Like the teen, her family felt deeply supported, and were grateful she had brought them.
Two boys a few years apart in age came for treatment. The younger was nine. They seemed a miss match as friends, but it was obvious they cared deeply for one another.
The older boy received his treatment first, then asked to stay in the room, wanting to make sure his friend also had a good experience. Wendy was touched by the tenderness of their interaction, simple things that showed such awareness. When the younger boy took off his glasses, his friend reached for them, saying, "I'll keep them for you."
Community healing
Each of the people Wendy treated wanted to come back for more. They said their Reiki session was the one thing that gave them peace even for a short time, and many felt Reiki should be a requirement for everyone in town.
People felt the quiet joy Wendy sensed when she first arrived, and that led to a general feeling of not wanting to leave. Everyone wanted to stay, just to be together in a healing environment. Even Wendy's husband decided to come in when he dropped her off. She said, "He sat and spoke with people and like everyone else, he didn't want to leave."
Practitioner healing
Wendy found her time at SHHP to be "full of goodness, quiet and peace." She said, "The time was almost as if there was no time."
When asked what she came away with, Wendy said the experience "showed me a lot about my practice and how I practice on myself, that the main thing is for me to step away from myself and just practice, to let Reiki practice do what Reiki practice does." She said that seeing how people who didn't know about Reiki came away with such peace helped her.
In her time at the center, Wendy came to realize that the community had gathered to heal itself, in the space provided by the Sandy Hook Healing Project, and the practitioners were simply facilitators in the community's own healing process.
_______________________
Please sign up for my emailing list. Join here!