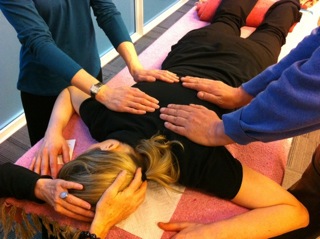 Many women entered the sunlit room smiling, but others looked tentative, maybe anxious, and some were in obvious pain. A couple dozen didn't speak English.
All were recently diagnosed with cancer.
During six hours of silent treatment on a Sunday in June, 120 women had their first Reiki experience at the annual JCC Spa Day for Women with Breast or Ovarian Cancer. Each group was quickly replaced by the next, with no time for discussion. But their smiles as they sat up after their Reiki sessions said it all.
How much will this Reiki experience change the life of any of these women? We cannot know.
But we offered them an oasis in the midst of their struggle, and their post-treatment smiles are still paying us dividends.
________________________
Join the email list and I'll send credible Reiki information right to your inbox.
Who in your community could benefit from an experience of Reiki? How will you bring it to them? The 7 Steps to A Successful Public Reiki Event webinar offers detailed coaching that takes you thoughtfully through the process, from choosing and contacting your host partners, all the way to follow-up.
ALSO OF INTEREST:
Reiki Support for Cancer Patients (medical paper)
3 Tips for Successful Public Reiki Events