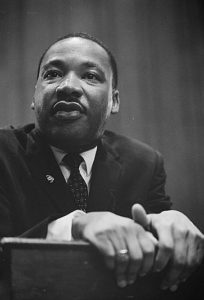 Martin Luther King, Jr.'s immeasurable legacy includes a treasure trove of quotes that inspire us to choose freedom and love.
Here's one of my favorites:
"I have decided to stick with love. Hate is too great a burden to bear."
Have you been there? Have you felt the squeeze hate puts on your heart, the burden it adds to your spirit? I have.
Choosing love
Who would argue that sticking with love is a good choice? (Likely not someone who's reading this.)
Anyone who's made the choice to stick with love knows sticking with love is easy only in the abstract, when you think about it in an ethical, moral or philosophical way, when you think about who you want to be rather than how to actually be that person.
Those who live in a contemplative yet flesh-and-blood world know sticking with love isn't an easy choice. Nor is it one-and-done.
In order to stick with love — to choose love Today only, in this moment, moment after moment — you need to be in a place of inner freedom and choice.
Maybe, like most of us, that's not where you spend a lot of time, at least not as much as you'd like. Maybe you're too often in a state of feeling battered by demands, from others and from yourself, demands that sap your vitality, keep your heart in lockdown, and muddy your choices; a state in which it's easy to point fingers and blame others.
Getting out of inner lockdown
How often do you feel there's something you have to do, that you have no choice in the matter? That can be a dangerous place to be. Dangerous to yourself and dangerous to others.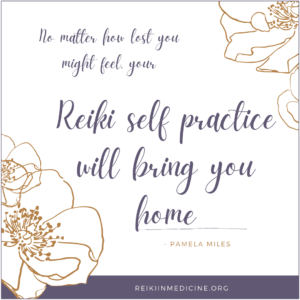 When you feel like you have no choice, it's easy to give up on yourself, on love, on creativity, on freedom. We all know this; we've all been there.
Before you give up on yourself, on your heart and your values, you can take a simple action that changes everything and opens a world of choices — you can place your hand for Reiki self practice.
Moving into your freedom
Reiki self practice opens the door to your inner freedom and choice, including the choice to stick with love.
Your Reiki self practice lifts you out of that reactive state none of us like being in, yet we still spend too much time in. You know the state I mean, the one in which you feel restricted, shut down, maybe even hopeless; a state in which it becomes easier and easier to justify actions you don't feel good about.
The physiologic response you feel and sometimes hear when you practice self Reiki — the opening of your breath, the yawns and belly gurgles — that's the sound of your autonomic nervous system moving itself out of overwhelm, easing into a state of balance and self-healing.
Which brings me to another favorite Dr. King quote:
"The time is always right to do what is right."
Have you ever struggled in the moment to recognize what is right? Reiki self practice is right in any moment, and as you move out of struggle and come home to yourself, you can see what else is right and needed and timely.
Sticking with love
Your consistent Reiki self practice helps you be a good friend to yourself.
"Love is the only force capable of transforming an enemy into friend."
You can't truly befriend others until you befriend yourself. Befriending yourself, sticking with love, starts with daily self practice and continues with mindfully staying aware of what you know to be true in the depths of your heart, even as circumstances are squeezing your heart.
Be your own best friend. Stick with love. Practice self Reiki and spend more time aware of the sweet, transformative pool of unconditional love that lies within the human heart, your human heart, your sometimes all-too-human heart, the one that at times forgets its majesty in an avalanche of emotion. Practice and come home to your deepest heart, your true self.
Your Reiki self practice
How can you practice? If you've taken any Reiki classes, you can practice at home as you were taught. If you don't remember, if you need support, if you want company, or if you've never learned to practice, you can practice with a global community of people who recognize consistent Reiki self practice creates the foundation for a better world for all of us, who understand that Reiki self practice supports us sticking with love.
We practice online every Tuesday and Saturday. You are very welcome to join us. It's an inclusive come-as-you-are, practice-as-you-practice session, with guidance for those who are new to Reiki practice.
Protecting your freedom to practice Reiki
Do you see how Reiki practice and sticking with love go hand-in-hand (pun deliberate)?
Then surely you want to protect your freedom to practice Reiki, and to practice as you choose. There are currently forces working against that. Contrary to what many assume, there's no evidence that Big Pharma is involved. Rather, one of the people working hardest to control Reiki practice has some Reiki training.
I'm committed to sharing credible updates on how we can maintain our freedom to practice Reiki as we choose, without unnecessary government control.
We'll need collaborative participation from various Reiki lineages to counter this threat and protect all of us. Join my email list here. Then add yourself to the Protect Reiki Legislation list to be kept updated on actions the Reiki community can take to counter these draconian efforts to control how we practice and what we teach.