Healing crisis and cure are often linked in natural medicine, but much confusion exists.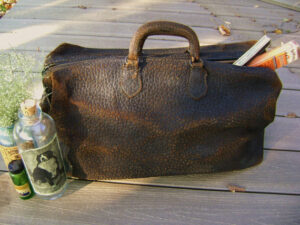 For the sake of clarity, this discussion of healing crisis will contrast conventional, science-based medicine with natural, tradition-based medicine.
Please keep in mind that these two approaches are not mutually exclusive, and that the patient receiving both conventional care and traditional care is likely receiving the best possible health care.
The series on healing crisis (you'll find links to earlier articles below) started because a physician who is also a Reiki practitioner (not trained by me) asked for advice "how to deal with the emotional and physical healing crisis/cleansing effect." He wrote that a healing crisis "can be very severe and even potentially dangerous in some vulnerable individuals."
The conventional doctor's confusion is understandable. He knows very well that the body has the capacity to heal itself. Physicians I work with often say most ailments they see in their offices would resolve without intervention if patients gave the body what it needs to recover (rest and appropriate nourishment).
Healing crisis or adverse reaction?
But doctors are trained to think in terms of adverse reactions and unwanted side effects rather than healing crisis and cure. When doctors see a patient feeling worse, they don't think in terms of healing crisis, they see a disease state getting worse in a patient who needs care.
Physicians are taught to intervene to manage adverse reactions and reduce the likelihood of a negative outcome. And they're taught to intervene earlier rather than later, hoping to minimize harm to the patient and prevent the situation going from bad to worse. (We won't get into the unwanted side effects of aggressive treatment.)
A healing crisis, however, is not an adverse reaction in the medical sense. Rather, a healing crisis is an organic development of stimulating the body's self-healing mechanisms.
Healing crisis and cure, and prevention
Healing crisis and cure aren't part of the conventional medical paradigm. Healing crisis doesn't occur in conventional medical treatment because conventional medicine attacks the disease directly. Rather than engaging the body's self-healing, conventional interventions take over the fight.
Also, conventional medicine's definition of cure is very specific. Once the relevant tests are clear, the patient is deemed cured. No attention is paid to healing the underlying causes of disease and degenerative conditions, as they are largely not detectable by conventional scientific tests (this is slowly beginning to change).
Traditional healing systems, however, have a comprehensive vision of cure and don't treat the disease separately from the person. The goal of natural medicine is to restore the entire human system to balance; acute and chronic conditions are addressed within that context.
Healing crisis demystified
A healing crisis can seem magical, but it is decidedly not magical. It has a cause and it has an effect.
If a healing crisis happens, it happens as a natural consequence of strengthening the body's own self-healing mechanisms. When the body's self-healing mechanisms function more effectively, the body's detox system is also functioning more effectively. If the system is detoxing faster than it is releasing, there may be a temporary exacerbation of symptoms. This malaise abates as soon as the system catches up to itself, at which point the person feels much better.
Healing crisis doesn't happen in conventional medicine because conventional medicine treats the specific markers of a specific disease, rather than stimulating the human system to rebalance itself.
Beyond healing crisis: Hering's Law
Nineteenth century physician and homeopath Constantine Hering observed the consistency of the body's natural healing process and identified three elements in what is now called Hering's Law:
the healing process moves from the deepest, most subtle part of the system (emotions, mind, vital organs)
symptoms reappear and disappear in the reverse timeline in which they originally occurred
as healing progresses, symptoms move to the surface and extremities (skin, hands, feet)
If a person is consistently using natural medicine over a period of time, the specifics of the healing process described in Hering's Law may be observed, especially if there is a continuing relationship with a traditional healing practitioner who is tracking the process.
If you have questions about healing crisis, please leave them in the comment section below. If you are reading this as an email, click the title to be taken to the website, where you can leave your question. Thank you for participating in this discussion.
Other articles in the healing crisis series:
Reiki Healing Crisis
Healing Crisis and Natural Medicine
Alternative, Conventional and Traditional Medicine
________________
The vintage doctor bag pictured above is available from Etsy's junquegypsy.
Sign up for the email list. Join here!