I'm all for multiculturalism and diversity. I live — and thrive — in New York City, one of the most diverse cities in the world.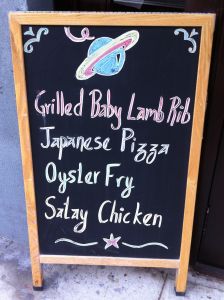 But when I saw Japanese Pizza listed at a local restaurant, it gave me pause. I enjoy both Japanese food and (really good) pizza, but the thought of the two together makes me queasy. (This from someone who'll eat dark chocolate with anything. Well, maybe not pizza.)
I started wondering where we are heading — not the restaurant industry, but all of us, and especially the Reiki community — you and me.
When we mix up everything indiscriminately, are we celebrating diversity — or obliterating it?
And when it comes to spiritual practices such as Reiki, meditation, yoga, or taiji, what is gained by inventing a new practice without first taking the old one out for a thorough run? In the rush to be different — or better, faster, greater — are we not seeing how much we slow ourselves down with unnecessary complications?
I remember giving a phone consult to a Reiki master seeking guidance. I asked him the question I always ask: Do you practice daily self-treatment?
He did not, and was flabbergasted to learn that I did. I could hear his jaw drop. I was at a loss to understand why a Reiki master found daily practice so daunting until he continued, "You mean you lie on your white wool mat with your feet facing west and this crystal on your right and and and (going through a list of details)…every day?"
"No," I said, "I just place my hands on my head or torso, usually before I even open my eyes in the morning."
"And that works?"
"Yeah, it seems to be working."
Many years later, it still seems to be working.
I practice today — and every day — the simple practice I was taught in 1986. If I hadn't kept my practice simple — if I had mixed it up with other wonderful things in my life — how could I have discovered how effective this simple practice is? How could I have gained the confidence that my practice is always here for me, even when placing hands is all the effort I can possibly make?
__________________
Join my email list and stay connected!
RELATED READING:
Chipped
How to Practice Reiki Self-Treatment
Usui Reiki, or Not Reiki?