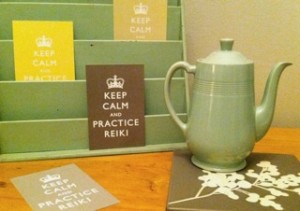 Putting away a favorite teapot, I notice a chip.
Not the first chip on this well used teapot.
Somehow the chips make it even more dear to me.
I prefer objects adorned by use, and homes decorated with a patina of stories. By contrast, freshly minted objects can be off-putting in their exterior perfection, an accident waiting to happen.
Of course I sport more than a few chips of my own. Years of daily practice have carried me through life's relentless chipping, and on to tell the tale.
And even more important, daily practice enables me love the chips — and myself, chips and all.
Daily practice — of reiki, meditation, prayer, yoga, tai chi, or whatever appeals — keeps us connected to our wholeness even when life swerves, skids and fragments.
How has your daily practice supported you through life's chips? Please share your story as a comment. Who knows whom you might inspire!
Related reading:
Good Enough
Today Only
Manhattan Reiki
 ___________________________
Are you part of our Reiki, Medicine and Self-Care community on Facebook? Join our daily conversations about Reiki practice and communication to broaden your perspective, deepen your understanding, and strengthen your communication skills.

Want to stay connected? Join the emailing list here.