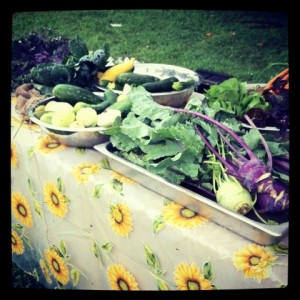 I'm savoring the end of summer, watching the Yankees, shelling peas.
And considering something radical.
These are the last shelling peas of the season. Calculating how far I could stretch this sweet green joy of summer, I asked Franca the farmer how long they would keep in the pods. She suggested I shell them and pop them in the freezer.
I demurred. "I don't freeze food," I said. And truly, the freezer is the emptiest space in my home.
"Neither do I," said the farmer, "But I freeze peas."
Changing behavior and attitudes
I bought an extra bagful, and now I'm contemplating the unthinkable.
Freezing food has never appealed to me. Living on Manhattan island, with fresh food in abundance, freezing is hardly a necessity.
But the farmer got me thinking, and not just about freezing peas. Now I'm analyzing what led me to reconsider a long held position, one that was previously not open for debate. I'm on the brink of changing my behavior.
Many times each year, I face the end of a cherished vegetable's season, but never before did I consider freezing them to extend the pleasure. What's different now? How did she get me to consider changing my behavior?
Trust inspires us to reconsider
Today is the first time this farmer suggested freezing. I've been buying strawberries, veggies and an occasional fresh brook trout from her since my grown kids were little kids, one in the snuggly, one by the hand.
She's not certified organic; she's heart-and-soul organic. She eats what she sells.
I don't trust the legal organic label, with its month-long sell-by date on milk. (How fresh is month-old milk?)
I trust the farmer. I share her values. She's an expert, knowledgeable about her food, generous with her knowledge, and with samples.
I trust her, and I'm grateful I can buy from her.
Which is why these peas may be headed for the freezer. If I don't eat them first.
Inspiring others to try Reiki
What behavior is ripe for change in your life? Maybe the way you speak about Reiki? When we ask people to consider Reiki, we're asking them to change their behavior, and often their attitude about healing and self-care.
People don't change their behavior easily. We need to gain their confidence, to show them we are credible and trustworthy. It starts with our manner and continues with our choice of words, and our ability to have a conversation rather than proselytize.
How do you inspire the person who asks about Reiki to trust your values, and thereby your perspective? What is it in your manner and presentation that helps people new to Reiki consider changing their attitudes and behavior? Please share your insights in a comment below.
__________________
Please signup for my email list so we can stay connected. Join here.
RELATED READING:
Reiki Healing Is for Everyone, So Let's Speak to Everyone
Choosing Your Reiki Words